Æris [by Rhys]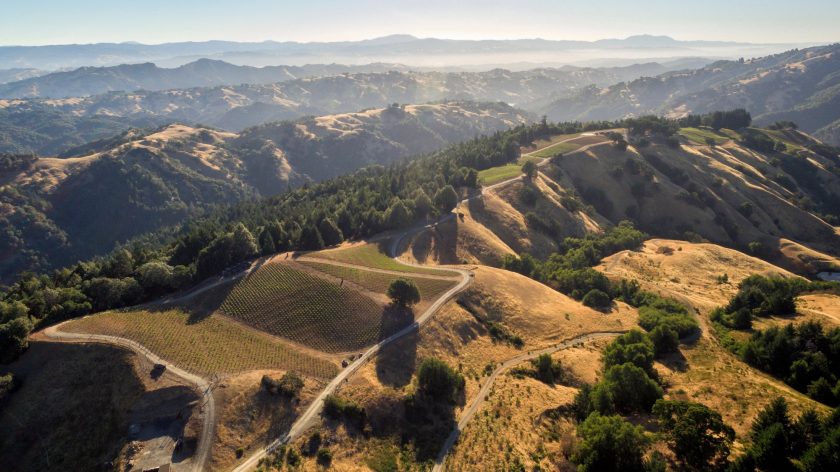 Skurnik Wines is pleased to announce an exciting new venture from the makers of Rhys Vineyards, Æris Wines – which focuses on Italian varieties such as Nebbiolo, Barbera, Nerello Mascarello, and notably the first planting of Carricante in the United States.
The wines are made using strictly organic viticulture with minimal input to allow the site to dictate the character of the wines. Reds are fermented primarily using open top vats, many with submerged cap which is a common practice in Piedmont. White fermentation is done in temperature-controlled stainless steel to capture and preserve the delicate aromatics of Carricante. The wines are aged in large oak casks to allow for gentle maturation in the cellar without disguising the wines with new oak barrels.
Æris Wines are produced from their estate vineyard called Centennial Mountain and is situated just south of Rockpile AVA (red borders in the photo below) and just outside of the western border of Dry Creek Valley AVA (orange borders in the photo below). Both Rockpile and Dry Creek Valley are known for being Zinfandel country, but as you can see from this aerial view the topography changes dramatically where Centennial Mountain is located. It is here that Kevin Harvey and his team found a location that has what they believe to be the necessary climatic and soil conditions to grow Nebbiolo, which is notoriously difficult to cultivate outside of Piedmont.
In addition to Nebbiolo, Barbera, and Nerello Mascalese, Æris Wines are the first to plant Carricante in the United States using cuttings from producer Salvo Foti in Milo, Sicily. Carricante is rightly known as a major workhorse grape in white wines from Etna, Sicily and like Nebbiolo, has rarely found homes outside of its region of origin. Kevin Harvey and his team are well known for their meticulous attention to detail when planting vineyard sites and have found a new home for this exciting white grape.
Farming Practice:
Practicing Biodynamic