Tonschiefer Riesling Trocken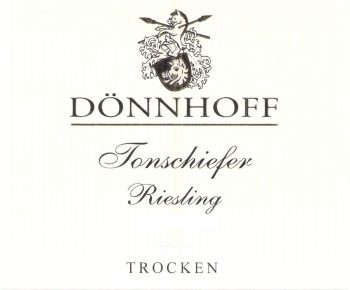 Variety: Riesling
Region: Nahe
Vineyard: Mostly from Oberhäuser Leistenberg
Soil Type: Grey, carbon-laced decomposed argillaceous slate or "Tonschiefer"
Fermentation & Élevage: A combination of stainless & used large oak
The Dönnhoff Family is proud to call Oberhausen an der Nahe home. Running from Niederhausen to Schloßböckelheim, the majestic landscapes of the Nahe Valley have held sway ove for more than 250 years. The first official mention of the Dönnhoff name dates back to 1761; the family's own history book details the early flowering of 1781 and the bumper grape harvest of 1784. Helmut Dönnhoff's grandfather laid the cornerstone for the estate's success.
Fine and elegant with delicate peach and citrus aromas, but also unusually powerful for the humble category and this producer. Long, ripe and crisp finish. From organically grown grapes. Fair'n Green certification. Drink or hold. Screw cap.
This is the dry version of the Oberhäuser Leistenberg. The hill just to the left of the vineyard is called the Lemberg, and with the Leistenberg on the other side, these hillsides form a valley. Cold air from the Hunsrück blows through the area, passing by the Leistenberg making it impossible for botrytis to develop. Further, the exposition is southeast rather than due south like the Hermannshöhle. This means longer ripening and lower potential alc, perfect for Kabinett style wines. Tonschiefer means "clay slate", so named for the soil that dominates the vineyard. This is the original vineyard for the family and holds a very special place.
Sizes Available
| | | |
| --- | --- | --- |
| Full Bottle | DE-DHF-03-22 | 12/750ml |
| Magnum | DE-DHF-03-22M | 3/1500ml |
REVIEWS FROM PAST VINTAGES