Single Estate Blended Anejo Rum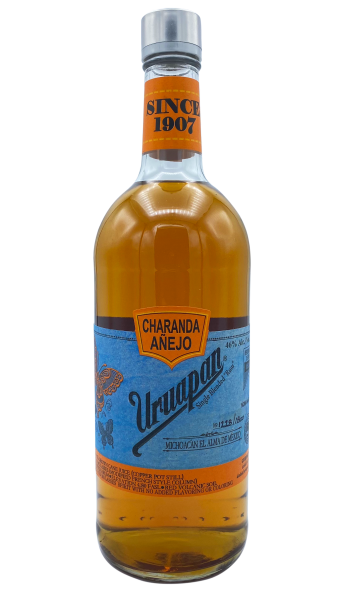 Single-estate sugarcane distillate produced by an historic farming family in Uruapan, Michoacán
D.O. estate-grown sugarcane cultivated over 4,000 feet above sea level and pressed using a water powered mill
Blend of 50% fresh pressed sugarcane and 50% molasses
Fresh cane sees open-air fermentation for eleven days; molasses sees forty-eight hours closed
Cane is distilled twice in "El Prieto"–a small (1,000 liter) wood-fired copper pot still
Molasses is distilled once using a short, French-style column still
Aged for twenty-two months in ex-bourbon barrels
Uruapan Charanda's signature bright, tropical fruit flavors are enveloped in a warming, confectionary embrace of clove and toasted coconut with a whisp of smoke and banana esters on the finish.
46% ABV
Aged for twenty-two months in ex-bourbon barrels, this rum is a lovely balance between the terroir-specific character of the Pacheco's estate-grown sugarcane and a dry, confectionary whiskey.
Sizes Available
| | | |
| --- | --- | --- |
| 1L | MX-XUC-03-NVL | 12/1000ml |
Tasting Notes
Uruapan Charanda is a single-estate sugarcane distillate produced by an historic farming family in Uruapan, Michoaćan. This D.O.-protected spirit is made from a blend of 50% fresh-pressed sugarcane and 50% molasses, all sugarcane is estate-grown at over 4,000 ft above sea level. The fresh cane juice is open-air fermented for eleven days while the molasses is closed-fermented for forty-eight hours. The cane is then distilled twice in a small wood-fired pot still and the molasses is distilled using a short, French-style column still. Finally, the charanda is aged for twenty-two months in ex-bourbon barrels. A profile reminiscent of a cross between Agricole and Jamaican style rums, is complemented by bourbon barrel aging that is immediately apparent on the palate. Uruapan Charanda's signature bright, tropical fruit flavors are enveloped in a warming, confectionary embrace of clove and toasted coconut with a whisp of smoke and banana esters on the finish. 46% ABV.