'Reisetbauer & Son' Whisky 15yr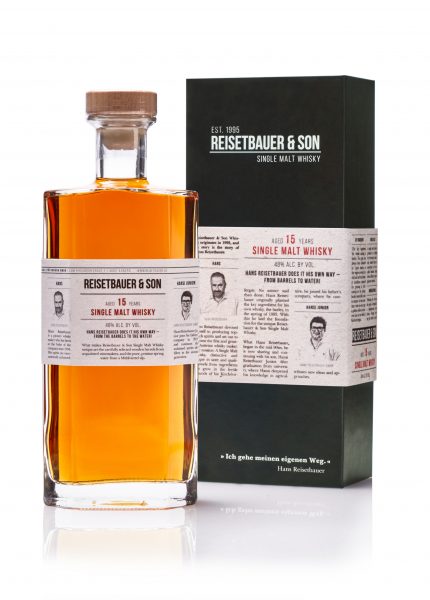 Single malt whisky produced by Hans Reisetbauer and his son, Hansi Jr., in Axberg, Austria
Distilled from 100% organic, estate-grown barely grown on the Reisetbauer family farm under the supervision of Hansi Jr.
Malted barley mash is fermented in stainless steel tanks for 70 hours
Distilled in a Christian Carl copper pot still
Aged 15 years in in both used Chardonnay and Trockenbeerenauslese (TBA) barrels sourced from local Austrian winemakers
Yellow apple, tarragon, soy sauce, pear, and galangal on the nose transition to a robust palate of red apple skin, ginger, clove, and charred oak with a drying, mineralic finish
Non-chill filtered; 48% ABV
This 15-year-old single malt whisky not only demonstrates Hans' superior distillation technique, but his patience and expertise when it comes to aging and maturation. The 15 years spent in a combination of used Chardonnay and Trockenbeerenauslese, an Austrian dessert wine, imparts a refined elegance to this bold, high-proof whisky.
Info
Spirit Type:
World Whisky
Spirit Sub Type:
Single Malt / Malt / Pure Malt
Sizes Available
| | | |
| --- | --- | --- |
| Full Bottle | AT-XHR-32-NV | 6/750ml |
| Other | AT-XHR-32-NVZ | 6/750ml |
Tasting Notes
Reiseitbauer & Son's line of single malt whiskies are over 25 years in the making. After establishing himself as one of the greatest producers of eau-du-vie and brandy in the world, Hans Reisetbauer turned to grain distillation. While his Mulan winter wheat-based vodka and gins amassed award after award over the years, his malted barley distillates patiently waited in their barrels. The end result: expertly crafted, fully matured Austrian single malt whisky.
The finest whiskies begin with the finest grains, and Reisetbauer & Son's estate-grown organic barley is as fine as it gets. After studying at University of Natural Resources and Life Sciences in Vienna, Hans' son, Hansi Jr., spearheaded the holistic conversion of the Reisetbauer family farm's agriculture to organic farming, leading to the farm's organic certification.
With the perfect raw material in tow, the malted barley mash is fermented for 70 hours in stainless steel tanks before being distilled in a Christian Carl copper pot still. The unaged whisky is then placed in a combination of Chardonnay and Trockenbeerenauslese (TBA) barrels for a minimum of 15 years. The resulting whisky shows yellow apple, tarragon, soy sauce, pear, and galangal on the nose which transition to a robust palate of red apple skin, ginger, clove, and charred oak with a drying, mineralic finish.
The care and attention to detail which Hans applies to each of his distillates is apparent in every step of production of this single malt whisky—from the organic grain production down to the hand-bottling and labeling—everything is produced on site with the utmost attention. Non-chill filtered; 48% ABV.