MX-XLM-04-NV
Mezcal Madrecuishe, La Medida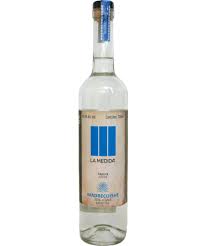 La Medida Mezcal ("the measure") is a collaborative brand created by Julián Vidal Gómez Rodríguez, who has been one of the unsung icons of Oaxacan mezcal for over 40 years. Alongside his son, Julián works in concert with several highly regarded mezcaleros around Oaxaca (including the enigmatic legend Don Celso, who co-founded the brand) to showcase a diverse range of wild and cultivated single-varietal bottlings.
Producer:
Vintage:
NV
Country:
Mexico
Region:
Oaxaca
Spirit Type:
Agave / Sotol / Pox
Spirit Sub Type:
Mezcal
| | | | |
| --- | --- | --- | --- |
| Sizes Available: | SKU | Case Size | Bottle Size |
| Full Bottle | MX-XLM-04-NV | 12 | 750 |
| 187ml/200ml/250ml | MX-XLM-04-NVR | 24 | 200 |
Tasting Notes
The "mother" of Agave karwinskii, the large and resinous Madrecuishe grows tall and proud in Miahuatlán. A long, cylindrical trunk (which once harvested resembles a huge cigar) is topped with a tall, green bloom of leaves, spreading out from the trunk's heart. From this trunk or stem, the Madrecuishe carries a lot of fiber alongside its highly concentrated sugars. A balance of fruity and vegetal notes is a hallmark of the distillate, implying everything from leafy green herbs to sweet carrots to raspberry seeds.  From Antonio Cortés Aragón, this is an outstanding and surprising example — green melon rind dances with the thick aroma of fresh peanut shells and traces of sweet green herbs like cilantro.  Truly delightful.
Resources
Request a shelf talker/case card