Pumpkin Milk Punch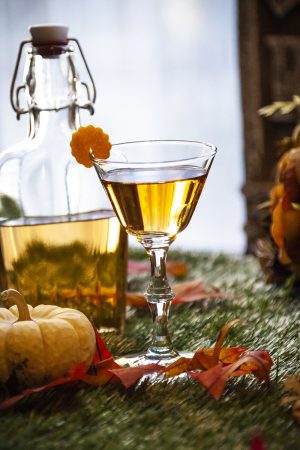 Pumpkin-Milk per cocktail:
3 oz Whole Milk
1 oz Canned Pumpkin Pie Filling
1 Bay Leaf
*Orange Pekoe Tea
Steep 3 bags of tea in 16 oz of boiling water for 5-8 minutes. The tea should be strong but not too bitter.
**Orange Cordial
Muddle the peels of 3 Oranges and 1 Lime in 2 cups of super-fine sugar. Let sit overnight. Once the oils from the peels have steeped in to the sugar, add 2 cups of freshly-squeezed Orange Juice and whisk until sugar is incorporated. Strain out peels.
Bring Milk, Pumpkin, and Bay Leaf to boil over low heat whisking to thoroughly incorporate. Once hot, add the mixture to the punch and stir lightly, allowing the milk to curdle. Strain twice through a fine-mesh bag. Do not rinse the milk solids from the bag between strains; this will help with clarification. Also avoid pressing the liquid through the bag; pressing will result in un-wanted particles in your final punch. We recommend preparing this punch in large batches since you don't have to worry about spoilage.