Viñedos do Gabián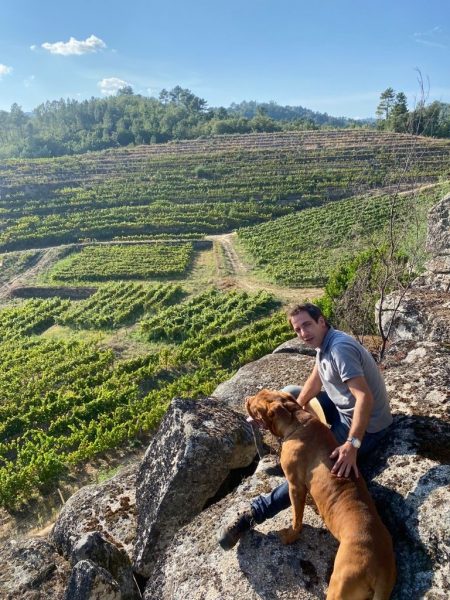 It is our pleasure to welcome an old friend back to the fold in the shape of Pepe Pereiro López-Quecuty—call him 'Pepiño' for short! His winery, Viñedos do Gabián, though microscopic, has certainly entered the rolls as a key name of the New Spain.
By trade a pharmacist in Vigo, the chief town of the Rías Baixas, Pepiño was bitten by the wine bug in the middle 2000s, and following technical enology training in Madrid he learned the subtleties of the craft in as good an environment as any in the world: the cellar of Raúl Pérez. By the early 2010s, he had acquired and planted an amphitheatrical monopole of two hectares and change in the town of Carballeda de Avia, just up the Miño river valley from the Rías Baixas in the Ribeiro zone (though, as we shall see, Pepiño no longer abides by that particular set of rules). From this surface he produces artisanal quantities of just a couple wines, though the vast majority of bottles consist of 'Xanledo' [shon-LAY-doo], a red blend of stunning delicacy and elegance of which we had the good fortune to sell the 2015 and 2016 vintages, the first exported to the United States.
Vineyards & Viticulture
Pepiño's 2.5 hectares of (mostly) Brancellao, Caíño Longo, Caíño Redondo, and Espadeiro, now roughly a decade old, enjoy a beautifully sheltered exposition in a natural amphitheater of sábrego, the local name for granitic sand. 
In The Cellar
Through 2017, Pepiño's flagship wine 'Xanledo' carried the Ribeiro appellation of origin. By now, his very limited bureaucratic time as a one-man operation has led him to drop that mention and rest on the strength of the juice in the glass. Said juice consists primarily of Brancellao with smaller quantities of two different varieties of the coastal red specialty Caíño, as well as some Espadeiro. Fermentations proceed spontaneously in neutral wood—the Brancellao in open-top 500L barrels, while the other grapes typically only fill a single foudre. Having already revealed that his C.V. includes time in Raúl Pérez's winery, it is not surprising that Pepiño prefers fermenting whole bunches of grapes. Macerations tend to last around a month—not quite as long as his mentor, perhaps, but plenty of time to extract the perfectly-balanced, shimmering structural architecture to support the wine's weightlessly intense panoply of just-ripe fruit.