Rémi Leroy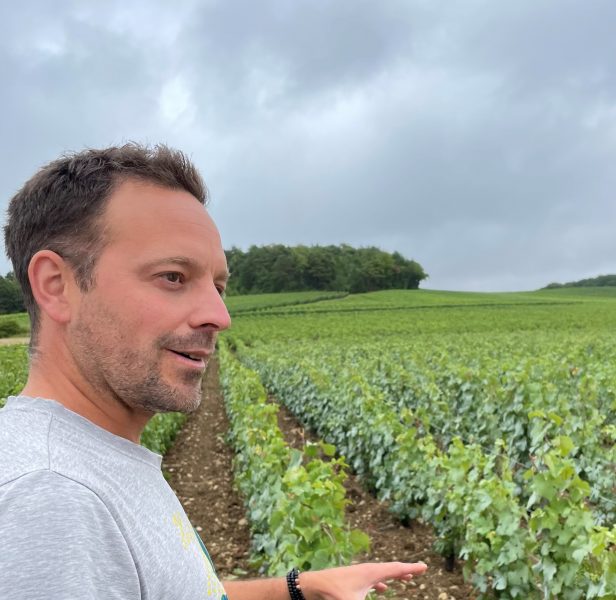 We met Rémi through Sébastien Mouzon, a grower that Rémi says is "one of the best in Champagne".  After graduating from Bordeaux with a masters in Oenology and Viticulture in 2006, Rémi returned home to Meurville to produce exceptional wines from his family holdings in this corner of Champagne.  Leroy's wines are expressive and a perfect introduction to the landscape of the Aube. His 9.5 hectares of holdings are spread over three villages: Meurville, Bergères, and Fontaine, all within a ten-mile stretch. The vineyards in Meurville are divided into two distinctive hillsides on either side of the Le Landion tributary, with exposures to the east and southwest. In Bergères and Fontaine the exposures are mostly south, all with the classic geomorphology of the Côte des Bars, with a majority of the Pinot Noir and Chardonnay, with small amounts of Meunier, grown mostly on Kimmeridgian soils.  Of the 8,000 hectares in the Aube, only 200 are on the younger, Portlandian soils.
Rémi makes wines from only a portion of the vineyards that he farms; a little less than fifty percent of the fruit is sold to NMs, leaving him with the very best parcels. Rémi employs a PAI horizontal press from Coquard and vinifies each parcel individually. After a short sedimentation, the wines are fermented in either stainless steel or oak barrels. A majority of the oak is 300-400 liter, purchased used from Hubert Lamy (St. Aubin) and Thomas Pico (Chablis). The wines spend the winter and spring on the lees before bottling without fining or filtration. Rémi is passionate about vineyards, but also meticulous, Burgundian work in the cellar. "More than Champagne, Champagne wine" is how he describes his very vinous style of wines. He disgorges his non-vintage wine as a Brut Nature and Extra Brut; with zero dosage and 3 grams, respectively. Both NV wines include 30% of reserve wines, produced as a solera started in 2009. 80% of the solera is kept in stainless steel, with 20% in barrel. The wines are 70% Pinot Noir, with 20% Chardonnay, and 10% Meunier, reflective of his holdings. "It is the same as my vineyards" he says.
Rémi also makes a fantastic, plush, and vibrant Rosé de assemblage, from 75% Pinot Noir, 20% Chardonnay, and 5% Meunier. It's a wine full of pleasure; the structure feels a bit looser and less taut than the Brut Nature and Extra Brut.   Leroy makes two vintage-dated wines: his Blanc de Noirs is from his oldest plots of Pinot Noir and is raised in 60% steel and 40% barrels. The wine is extraordinarily clear, and transparent, a great, savory expression of Pinot Noir. There is exceptional density of fruit, without losing buoyancy and lift. It's a wonderful example of what's possible in this section of Champagne. His Blanc de Blancs is raised entirely in oak and comes from old, selection massale Chardonnay in Meurville. This is a completely different style of Chardonnay than the crisp, saline wines of the Côte des Blancs, and feels remarkably less fruit driven than the Pinot Noir. It has density and depth amplified by the treatment in the cellar. Both vintage dated wines feel built for aging and would benefit from time in the cellar, though they are delicious and full of energy now. In addition, Rémi produces a few parcellaire wines, including an old vine cuvée called Mer sur Mont. This 1.03 hectare plot is located in Meurville on a Portlandian plateau to the west of the La Landion tributary. Portlandian soils are very poor and the old vine (planted in 1960), massale selections of Pinot Noir (60%), Meunier (20%) Chardonnay (15%), and Pinot Blanc (5%) are fermented in 300- and 350-liter barrique.  The secondary fermentation is done agrafe, under cork, for 6 years before disgorgement.
Farming Practice:
Practicing Organic