Reeve Wines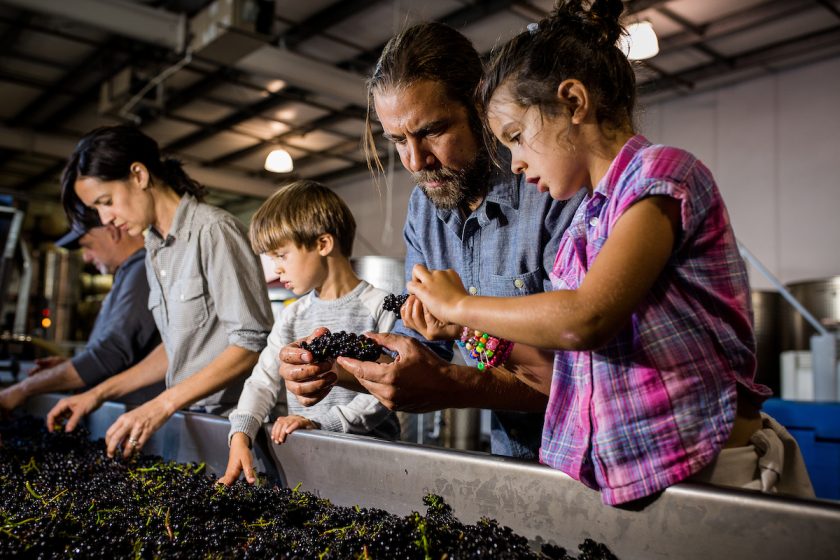 Noah and Kelly Dorrance are the husband and wife collaborative behind Reeve Wines. The couple met and fell in love after college when they both returned to their hometown of Springfield, Missouri. Noah's work and growing interest in wine took them to Paris, then through the Tuscan countryside, where they married, before ultimately moving to Northern California to build a life together.
In 2015 they launched Reeve Wines on a wild and rolling hillside estate property in Healdsburg, California, as an exploration of Noah's love for California wines with verve and intensity, produced from land that tells a story. What began as a creative outlet to complement the runaway success of Banshee Wines, the wine label Noah started with friends in 2008, soon grew to be something so singular it refused to be relegated to a side project.
Noah is the driving force behind the wines at Reeve, from vineyard scouting and cultivating grower relationships, to overall stylistic vision. He spearheads Reeve's winemaking and production with the support of talented winemakers Ross Cobb (Cobb Wines, Hirsch, Flowers, Williams Selyem) and Katy Wilson (LaRue, Kamen, Flowers), forming a powerhouse combination of experience, passion, and ideas.
Kelly is the mastermind behind the Reeve estate's modern-rustic aesthetic and elevated-yet-casual hospitality program. Her background in business and design perfectly counterpoints Noah's maverick instinct. Drawing from their shared Midwestern roots, she has shaped Reeve's welcoming, low-key atmosphere, an experience akin to spending the day in the comfort of a friend's home.
With Reeve Wines, Noah and Kelly have partnered their individual creative strengths to build a legacy they hope their children, Reeve and Remy, will one day inherit.
Vineyards & Viticulture
REEVE ESTATE VINEYARD
Continuing their love affair with Italy, the vineyards on the property feature Italian varieties. The aggregation of sufficient season long heat, but also cool nights, produces wines of deep impact but also freshness. Noah and Kelly planted the newest block below the cottage in 2019 to Sangiovese and Falanghina and in 2020 they grafted over the original plantings of Cabernet Sauvignon to Sangiovese as well. The estate is located up on a bench and the rocky soils there make wine with nice angles to them as opposed to the fat rounder wines on the valley floor.
Varietals: Sangiovese, Falanghina
Location: Dry Creek Valley
Elevation: 252 ft
Clones: Sangiovese Clone 23, Falanghina Clone 1
Soil Type: Suther Gravelly Loam
KISER VINEYARD
Ernest and Ruthann Kiser planted this vineyard in the "deep-end" of Anderson Valley nearly 20 years ago with Pinot Noir clones 114, 115, 667 and 777, as well as a suitcase clone from one of Burgundy's most celebrated vineyards. There is a very clear upper and lower block and it's fascinating to see the differences in each vintage. The lower block is one of the coldest vineyards in Anderson Valley.
Varietals: Pinot Noir
Location: Anderson Valley
Elevation: 440 ft (upper block), 318 ft (lower block)
Clones: 114, 115, 667, and 777
Soil Type: Sandstone, Shale, Wolfey-Bearwallow Series
MCFADDEN VINEYARD
This vineyard was planted by Guinness McFadden in the early 70s and has been farmed organically for most of its history. These Riesling vines are large, burly creatures, almost like small trees. They yield intensely pitched fruit of great depth and character.
Varietals: Riesling
Location: Potter Valley (Mendocino County)
Elevation: 1,000 ft
Clones: Heritage
Soil Type: Alluvial
PETRICHOR VINEYARD
Petrichor sits on the western-most ridge of the Mayacamas mountains. This organically farmed vineyard has a notable pedigree, with Steve Matthiasson acting as consulting viticulturist, and Lee Martinelli Jr. farming the vineyard. The vines are planted in a high-density, meter-by-meter fashion, creating more competition among the vines, which leads to wines with great verve and intensity.
Varietals: Syrah, Grenache
Location: Fountaingrove District, Sonoma County
Elevation: 1,100 ft
Clones: Syrah – 877, 470; Grenache – Alban
Soil Type: Volcanic
VECINO VINEYARD
This certified organic and biodynamic vineyard is planted with Pinot Noir clones 115, 667 and Roederer 32, and produces wine characterized by the alluvial soils of the area's high valley floor elevation, and dramatic diurnal temperatures. It has been the source of two of Reeves most popular wines, "Ya Moon" and Rosé of Pinot Noir, since their inception.
Varietals: Pinot Noir
Location: Potter Valley
Elevation: 1007 ft
Clones: 115, 667, Roederer 32
Soil Type: Alluvial
VONARBURG VINEYARD
Vonarburg means 'from the town of Ar' and was the maiden name of grower Norman Kobler's mother. His parents, Hans and Thersia, were Swiss immigrants who settled in Anderson Valley in the 1960s and founded Lazy Creek, the area's second oldest winery. Growing up amidst the vines, Norman went on to plant many of the vineyards in the now famous Anderson Valley. For Reeve, he grows Riesling on this special 2.5-acre vineyard with all the zeal, focus, and expertise for which he's become well-known.
Varietals: Riesling
Location: Anderson Valley
Elevation: 305 ft
Clones: 17 and 23
Soil Type: Fractured Sandstone, Slate
WENDLING VINEYARD
Wendling sits at the chilly end of the Anderson Valley, perched on a south and west facing slope. It was planted in 2010 by Paul Ardzrooni to a large variety of clones and rootstocks. The unique combination that exists here—a very cool zone, a sun-facing orientation, and relatively deep soils – produces velvety wines with great concentration, focus, and length.
Varietals: Pinot Noir
Location: Anderson Valley
Elevation: 470 ft
Clones: 115, 667, 828, 943, La Tache, Suitcase clones
Soil Type: Bearwallow-Wolfey Complex (red to brown well-drained, shallow sandy loam, sandstone, and shales)
WINDSOR OAKS VINEYARD
Noah & Kelly explored numerous sites around California for their Reeve Sangioveses, and their clear favorite is the Windsor Oaks Vineyard. Sitting atop a rocky knoll, this vineyard offers the perfect combination of hot days and cool nights, along with well-drained volcanic rock soils—the same Tuscany-like conditions that produce world-class Sangioveses.
Varietals: Sangiovese
Location: Chalk Hill AVA
Elevation: 620 ft
Clones: DiLorretto Selection from Montalcino
Soil Type: Volcanic, Rocky
CHARLES HEINTZ VINEYARD
Run by third-generation farmer Charlie Heintz, this vineyard has produced some of the most distinctive examples of California Chardonnay over the past 30 years. His grandfather established this impressive ranch in 1912 just outside of the town of Occidental. Along with having great soils, it has the rare ability to gather just enough warmth in a cool climate zone to create fantastic layers of flavor, while maintaining impeccable freshness and focus in the wines.
Varietals: Chardonnay, Pinot Noir
Location: Sonoma Coast AVA (Occidental)
Elevation: 771 ft
Clones: Chardonnay – Clone 4; Pinot Noir – 115, 667, Swan
Soil Type: Goldridge
H. KLOPP VINEYARD
This new vineyard was planted for Reeve Wines in 2014 by Ted Klopp and his daughter Lauren. Almost immediately they recognized its potential for producing wines with exceptional structure and freshness, attributes we especially prize in sun-drenched California. Even the first few vintages produced wines that were lauded for their depth and verve. Noah and Kelly are extremely optimistic that H. Klopp will become a new California Chardonnay icon.
Varietals: Chardonnay
Location: Sonoma Coast AVA (Sebastopol)
Elevation: 232 ft
Clones: Mt. Eden, Clone 4, Old Wente, Robert Young
Soil Type: Goldridge, with at least four distinct variations of clay
RICE-SPIVAK VINEYARD
This six-acre vineyard, located southwest of the town of Sebastopol, was planted in 2000. Given its location and low elevation, it receives a near daily dose of cool air from the Pacific Ocean. The vines produce small clusters with tiny berries of extremely intense, aromatic fruit, which show through beautifully in the glass. This is one of the most distinctive single vineyards they make and a crowd-pleasing favorite.
Varietals: Pinot Noir
Location: Sonoma Coast AVA (Sebastopol)
Elevation: 229 ft
Clones: Swan, 115, 667, 777
Soil Type: Goldridge, with volcanic ash