Mayacamas Vineyards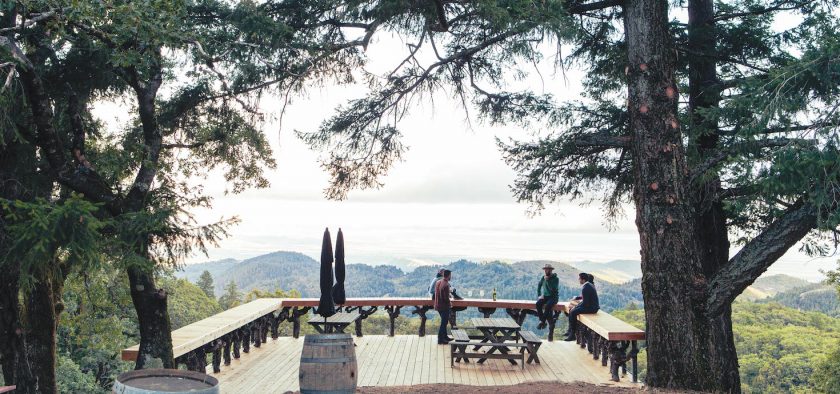 "Mayacamas Vineyards is one of the greatest Cabernet Sauvignon producers in the history of California. For those who long for great red wines that cellar with conviction and evolve in the course of time into brilliantly complex and compelling wines, Mayacamas Vineyards remains one of the brightest stars in the constellation of California wine. It is arguably the last man standing from the glory days of California's past."- John Gilman
At the crest of Mount Veeder, a sinuous appellation that clings to the Mayacamas Mountains' southern reaches, rests Mayacamas Vineyards – as it has for over a century. Here, at 2,400 feet, above the din of Napa's valley floor, fifty acres of vines quietly speak to both an unshakeable past and a fortitude for the future. Their fruit find its voice in a stone cellar built in 1889, and, when bottled, it shares with us a story of humility and commitment – unadorned, with concentration, elegance, and balance.
Initially built in 1889 by JH Fisher, a German immigrant and pickle merchant in San Francisco, the winery was largely abandoned from the time of the 1906 earthquake until 1941. Guests of the Lokoya Lodge on Mount Veeder, Jack Taylor, a chemist for Shell, and his wife, Mary, purchased the property – the winery and its 260 acres – and with their three children founded Mayacamas. They began by planting the property to Chardonnay, using budwood purchased from the Wente Livermore Valley Vineyard – just like their northerly neighbors, the McCreas of Stony Hill. Cabernet Sauvignon plantings followed, and Mayacamas was bonded (#4417) in 1947.
Next came Robert Travers, under whose stewardship Mayacamas found the voice it shares in present day. The son of a farming family, Travers wavered from a trajectory in engineering and finance, and, bolstered by his studies in wine, turned to Joe Heitz for a single harvest. After a year with Heitz, and the ongoing mentorship of André Tchelistcheff, Travers, only thirty, purchased Mayacamas from the Taylors. The estate's winemaker, Bob Sessions – who would later, to legendary acclaim, become synonymous with Hanzell – remained by Travers's side until 1971.
Since 2013, the Schottenstein family and winemaker Andy Erickson have rigorously attended to the identity of Mayacamas – not merely with the intention of preservation, but invigoration. Working with Travers in the 2012 vintage, the winemaking team learned to forgo new oak and instead implement the winery's existing old casks – anything that still held wine. Only minor changes have since been implemented, including cooling equipment to stabilize fermentations and lengthen macerations (from twelve days to perhaps twenty). Greater work stood before them in the estate's fifty planted acres. The winery called on Phil Cotturi, to replant the ailing, phylloxera-afflicted AXR-rooted vines, and to institute organic viticulture and continue dry-farming. The replanting process – only about five acres per year – promises to revive the estate's yields for the next generation