Domaine Bechtold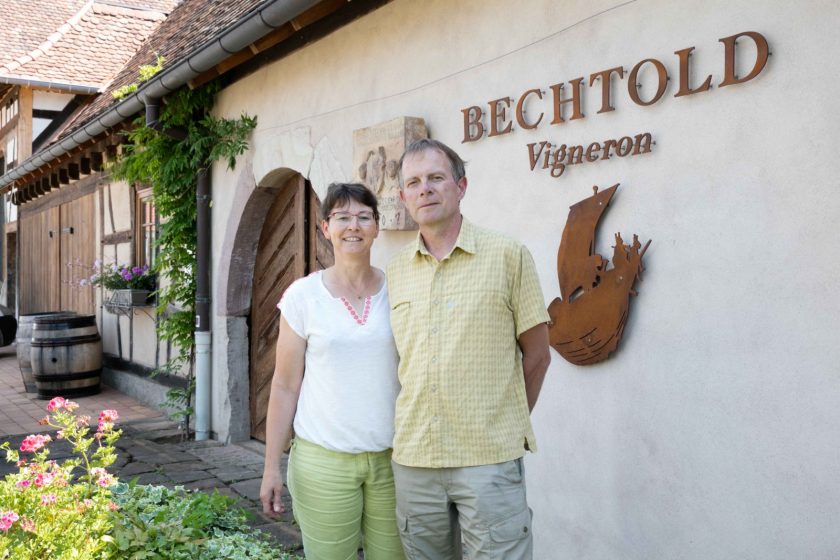 Jean-Marie Bechtold is the fourth generation to steward this traditional domaine.  He began working  with his father in 1980 and took the reins in 1995.  The estate is located in Dahlenheim, west of Strasbourg in the slopes of the "Couronne d'Or", a region with 2000 years of viticultural history.
Among its 12 hectares of vineyards, the domaine has impressive holdings in the Grand Cru "Engelberg" site, complemented by parcels in three other vineyards: "Sussenberg", "Obere Hund" and "Silberberg".  The most important vineyard of the village is the Grand Cru "Engelberg", a hill rich in limestone that is famed for producing wines of elegance and structure.  It has long been revered in the region and there is a mention of the Engelberg site in the main cathedral in Strasbourg, a reference dating to 890 A.D.   Domaine Bechtold is the only organic grower in Dahlenheim and Jean-Marie Bechtold is currently making the conversion to biodynamic viticulture.
Jean-Marie believes vinification and elevage must be approached as a parent raises a child: with patience, spirited attention and understanding of particular needs.  He minimizes intervention during the vinification to allow the wines to express their own character and to remain faithful to the vintage. Virtually all fermentation is done in stainless steel tanks with the objective of capturing the fresh acidity and typical dry style of the region.  The style is light, pure and elegant. The wines have a silky structure without being soft and they are complex without being overwhelming; they offer classic examples of the flavor and structure that defines this special terroir … cool, refined, dignified.