Clos de Gamot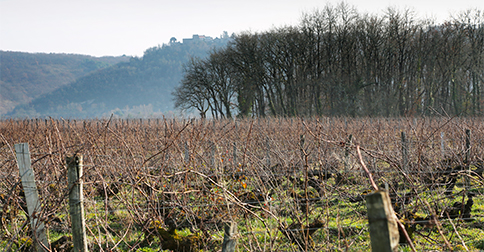 The Jouffreau family have been settled in Prayssac since 1290, first as farmers and merchants and, since 1450, as the winemakers of Clos de Gamot. In 1610, the Jouffreau family build a house in the middle of the vines which today houses the current generation.
During the phylloxera epidemic in the 1880's Guillaume Jouffreau collected the last vine shoots of Malbec from Clos de Gamot and grafted them onto other vines' branch. The Malbec on a Herbemont's rootstock was a success and he saved the vineyard and almost all the Cahors in the area. These centuries-old vines continue to produce a few clusters of pure Malbec every year.
Clos de Gamot is a 15-ha vineyard with a unique variety of Malbec vines located on calcareous clay-siliceous with pebbles and flints. The vineyard is situated on the second and third Lot's terrace, which comes from the Massif Central (pebbles, gravel, quartz) and the alluvium of the Lot. A strip of red clay crosses the vineyard and gives some exceptional properties to this terroir.  The geography of Cahors, with the influence of both the Mediterranean ocean (with the Autan Wind) and continental, brings excellent complexity to the wines.