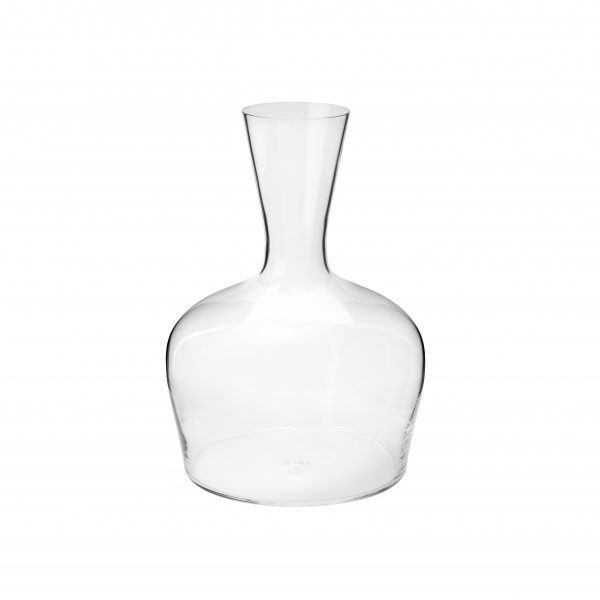 This is a generous and bold decanter for young wines needing aeration and maximum surface area for the wine. The long neck allows for a strong grip that will allow you to swirl the wine energetically, allowing oxygen to encourage and hasten a young wine's evolution and mellow the flavors. The bowl is also large enough to accommodate a magnum.
ø 17cm, H 23cm | ø 6.7″, H 9.1″
ONE GLASS FOR EVERY WINE
Pairing wine expertise and refined design, the Jancis Robinson collection is the result of a truly collaborative cross-disciplinary partnership between the celebrated product designer Richard Brendon and world-renowned wine expert Jancis Robinson.
"One wine glass to rule them all!" – The New York Times
"Introducing the only wine glass you'll ever need, designed by the world's best critic." – Wallpaper
"I'm utterly astonished: this glass brings out the best qualities in any wine I've poured in, providing a wonderful clarity of flavor." – Jon Bonné
"These are my favorite wine glasses. I love the idea that I will only need one glass for all wines in my winery and restaurants!" – Rajat Parr
"For my reviews and tastings, this is my new go-to. It is actually fantastic." – Cameron Douglas, MS
"The perfect wine glass, designed by an FT legend." – Financial Times, How to Spend It
"This glass shatters the biggest myth about wine."- Fast Company
Sizes Available
| | | |
| --- | --- | --- |
| Full Bottle | UK-RBG-03-NV | 1/CSml |