Whisky, 'Ichiro's Malt & Grain'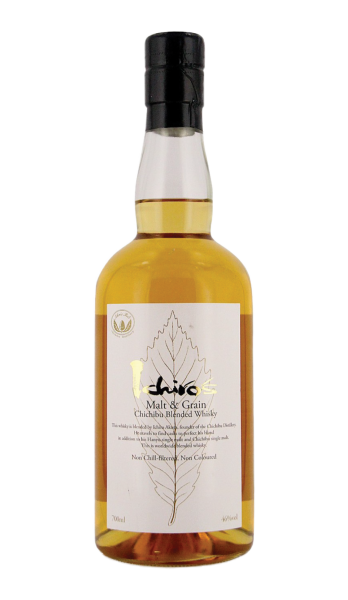 Blend of malt and grain whiskies vatted and matured by Chichibu Distillery in Saitama, Japan
Whiskies include Scotch, Canadian rye, American whiskey, Irish whiskey, and Ichiro's own Japanese single malts
Non-age statement; world whiskies aged 3–20 years before vatting, Japanese single malt aged up to 10 years
Aromas of apricot, popcorn toffee, Meyer lemon zest, and vanilla cream transition to a lightly textured palate of toffee, roasted chestnut, and gingerbread with a peppery, honeyed finish
Bottled without additives or coloring
Non-chill filtered; 46.5% ABV (may vary slightly batch to batch)
Ichiro's Malt and Grain is crafted to balance a heart of Japanese whisky with the complementary nuances of global whiskies, providing a world of depth to contemplate with each sip. In Ichiro's words, this is an "All-World Whisky."
Info
Appellation:
Saitama Prefecture
Spirit Type:
Japanese Whisky
Spirit Sub Type:
Blended / Blended Malt
Sizes Available
| | | |
| --- | --- | --- |
| Full Bottle | JP-XCD-01-NV | 12/750ml |
| Alternate | JP-XCD-01-NVA | 12/700ml |
Tasting Notes
Ichiro's Malt & Grain blends Scotch, Canadian rye, American whiskey, and Irish whiskey with Ichiro's own Japanese single malts aged up to 10 years. Each of the sourced world whiskies were aged between 3–20 years in their countries of origin before being brought to the Chichibu Distillery in Saitama, Japan, for 2–3 years of additional aging. The resulting blend displays apricot, popcorn toffee, Meyer lemon zest, and vanilla cream which transition to a lightly textured palate of toffee, roasted chestnut, and gingerbread with a peppery, honeyed finish. Bottled without additives or coloring, Ichiro's Malt and Grain is crafted to balance a heart of Japanese whisky with the complementary nuances of global whiskies, providing a world of depth to contemplate with each sip. In Ichiro's words, this is an "An All-World Whisky." Non-chill filtered; 46.5% ABV (may vary slightly batch to batch).