Schloss Gobelsburg 'Tradition' 3 Years Edition 850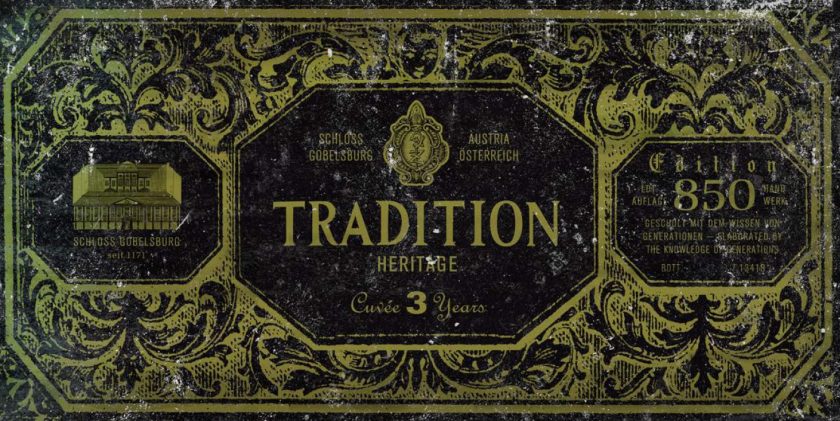 The 'Tradition' wines are an ode to the winemaking style being employed at Gobelsburg in the early 19th century – specifically the years between 1800 and 1850. This period is characterized by the era of baroque, where intense aromatics in vinfication was being practiced.
The grapes are pressed with a basket press for low sediment content, without further sedimentation the wines are fermented without temperature control in 25 hl Manhartsberg oak casks (double foudre). After the fermentation the wines are racked every 3 to 4 months to let the wine 'breathe' on one side, but on the other side to go off the lees. This process lasts for about two years until the wine is ready to be bottled.
Vintage:  85% 2018, 10% 2017, 5% 2016
Grapes: 80% Grüner Veltliner,  20% Riesling
Sizes Available
| | | |
| --- | --- | --- |
| Full Bottle | AT-GOB-51-NV | 6/750ml |
| Magnum | AT-GOB-51-NVM | 6/1500ml |
Press & Reviews
Wine Advocate
"The NV Tradition Heritage Cuvée 3 Years Edition 850 is a multi-vintage blend based on the 2018 vintage combined with the 2016 Renner and the 2016 Gaisberg. The inaugural bottling displays a golden-yellow color along with a rich, highly refined and flinty bouquet of great complexity, intensity and charm. Nothing reductive here—this is as seductive as Tannhäuser's Venusberg, and there is nothing but temptation due to some Traminer-like aromas. Enormously rich and refined on the palate, this is an intense and powerful yet also substantial white of great complexity, grip and tension. The texture is almost oily but mineral-vital and elegant, whereas the unity of fine mineral acidity and tannin structure develops a spectacularly long finish that intermediately made me think of a Sporen Alsace Grand Cru. This is a sustainable cuvée whose parts were racked every six months from one cask to another. Tasted at the domaine in June and again in July and August 2021."