Barrel-Aged Barley Shochu 'Hyakunen No Kodoku - 100 Years of Solitude'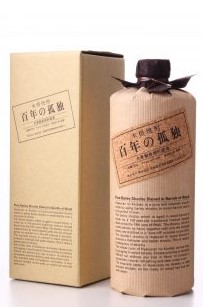 One of the rarest and most sought after shochu
Distilled from 100% estate-grown organic barley
Aged in oak casks for three to five years before release
Strong toasty notes of barley and cereal grains
One of the most rare and sought after barley shochu in Japan, Hyakunen no Kodoku means "One Hundred Years of Solitude" and is named for the famous novel. It is made from a mash of 100% barley, grown locally on the distillery's own organic farm, white koji to keep the flavor smooth, distilled at normal pressure to preserve oils, then aged undiluted in oak casks for three to five years to help it develop structure and fullness. The result is an intricate and delicate spirit, full bodied for a shochu with an ABV closer to whiskey than other milder shochu. Strong toasty notes of barley and cereal grains.
Info
Appellation:
Miyazaki Prefecture
Spirit Type:
Shochu / Soju
Spirit Sub Type:
Mugi (Barley)
Sizes Available
| | | |
| --- | --- | --- |
| Full Bottle | JP-XKU-04-NV | 12/750ml |
| Alternate | JP-XKU-04-NVA | 12/720ml |
Tasting Notes
Hyakunen No Kodoku is a special, high quality shochu made by aging barley shochu in wood barrels over a long period of time. This shochu is made by a 100-year-old traditional method handed down since the 18th year of Meiji. It is distilled once in pot stills and then matured in wood barrels to produce a mellower and smoother rare shochu.