Sake Vermouth 'Japanese Bermutto'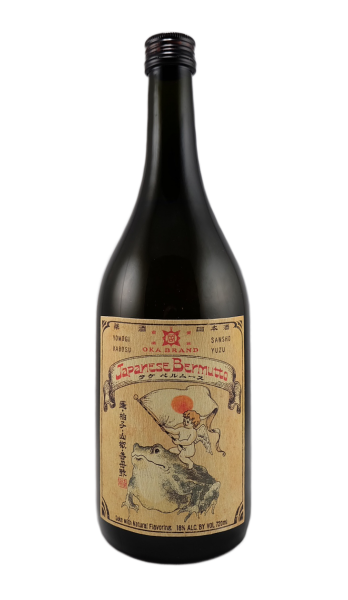 A uniquely Japanese interpretation of vermouth crafted by the Tsutsumi Distillery in the Kumamoto Prefecture in Kyushu, Japan
Made from a Junmai sake base and fortified with 100% rice-based shochu
Full botanical list includes yomogi (Japanese mugwort), yuzu, kabosu (a high-acid citrus fruit), and sansho peppercorn
The nose is fruity and yeasty with notes of grapefruit, peach, guava, lavender, and plum; on the palate, the sake base is immediately evident with bass notes of rice, yeast, and faint plum. Yuzu and sansho peppercorn brighten things up, while an undercurrent of yomogi provides earthy grapefruit from beginning to end
18% ABV
Bermutto, a Japanese phonetic spelling of vermouth, is a novel take on the classic fortified wine using sake, shochu, and four Japanese botanicals. Use this as a functional substitute or addition to dry vermouth or dry sherry to add new depth to cocktails, or try it in a Sonic highball with soda water and tonic!
Info
Variety:
Akita Sake Komachi Rice
Sizes Available
| | | |
| --- | --- | --- |
| Full Bottle | JP-XOK-01-NV | 12/720ml |
Tasting Notes
Produced at the legendary Tsutsumi Shuzo, which has been producing shochu in the Kumamoto Prefecture in Kyushu, Japan, for nearly 150 years, Oka Kura Bermutto is an aromatized sake fortified with shochu. Bermutto, a Japanese phonetic spelling of vermouth, is a uniquely Japanese interpretation of the classic fortified wine. The parallels are obvious—both begin with a low-proof, fermented alcoholic beverage which is then bittered with wormwood, flavored with citrus and herbs, and finally fortified with a distillate. But while vermouth is built around a base of wine and typically fortified with a neutral distillate, Oka Kura Bermutto is made from Junmai sake and fortified with 100% rice shochu.
Junmai sake refers to "pure rice" sake which is made from rice, water, yeast, and koji with no additional sugar, alcohol, or flavoring added during production. Junmai sakes must use rice polished to at least 70%, or rather, with rice that has had at least 30% of its outer layers polished away. It is typically characterized by bold and earthy rice flavors, a rich body, and slight acidity. Meanwhile, shochu is a low proof spirit most commonly made by distilling rice, barley, buckwheat, sweet potato, or sugar cane. Oka Kura uses a 100% rice shochu.
Sake producers have a long history of adding botanicals to their products, much like wines such as vermouth and quinquina have been aromatized. In that same tradition, Oka Kura fortifies their aromatized sakes with shochu, just as vermouths are fortified. Bermutto uses yomogi, a Japanese mugwort, as its primary bittering agent in addition to the Japanese citrus fruits yuzu and kabosu, and sansho peppercorn, a citrusy peppercorn which produces a mouth-numbing effect.
The nose is fruity and yeasty with notes of grapefruit, peach, guava, lavender, and plum. On the palate, the sake base is immediately evident with bass notes of rice, yeast, and faint plum. Yuzu and sansho peppercorn brighten things up, while an undercurrent of yomogi provides earthy grapefruit from beginning to end. 18% ABV.