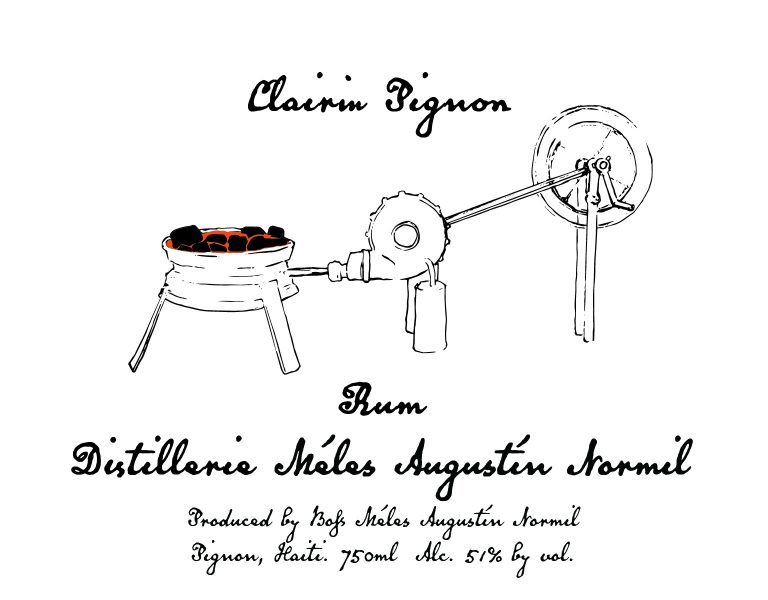 Clairin Rum twice-distilled by Boss Méles Augustin Normil in Pignon, Haiti, from vinasse and cane syrup on a pot still
Vinasse is the dense and flavorful matter left in the still after distillation. It is collected and saved in a vat or hole in the ground and then added to new batches to help kickstart fermentation.
Pignon is located at the border of the Central Plateau and North Department and is one of the country's top sugarcane-producing areas.
Cane syrup is sourced from nearby producers, blended with water and vinasse and fermented in large, open-top vats.
Ester and notes of cotton candy, dry sap, and cinnamon bark greet the nose; the full-bodied palate offers saline, young tree bark, green peppercorn, and a lingering flavor of brûléed sugar.
Bottled by hand at its full strength of 51% ABV
This expression of Haiti's heritage rum known as clairin exhibits how versatile the category can be in its production methods. With a lush personality that richly expresses the cane from which it is made, this full-bodied distillate offers a gateway to ester-heavy Jamaican rums while simultaneously expanding one's knowledge of the Haitian style and terroir; a must-not-miss for anyone looking to level-up their rum game.
Info
Spirit Sub Type:
Haitian / Clairin
Sizes Available
| | | |
| --- | --- | --- |
| Full Bottle | HT-XAM-01-NV | 12/750ml |