Bründlmayer Ried Zöbinger Heiligenstein 1 ÖTW Kamptal DAC Riesling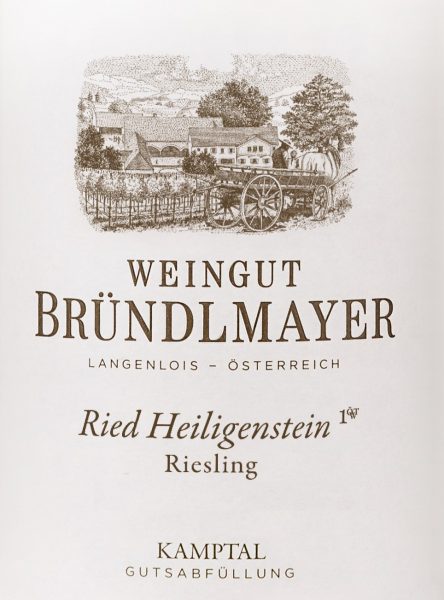 Region: Kamptal
Grape variety: Riesling
Vineyard: Zöbinger Heiligenstein
Soil type:Perm desert sandstone. The sediments contain volcanic inclusions and carbonized remains of primeval vegetation
Wine-making: Fermentation in steel the racked into large, old oak and left in contact with the fine lees for a couple of months
Ried Heiligenstein
The Bründlmayer family owns 12 hectares right in the centre of the Zöbinger Heiligenstein. 10,5 hectares are planted with Riesling, the remainder for experimental purposes with Cabernet (mostly Cabernet Franc). About 20% of the vineyards are trained in the Lyra trellis system. The other Heiligenstein vines are raised by the traditional Guyot method with the berries hanging 50-60 centimeters above the ground. Thinning is done as required to restrict the average yield to 3500-4000 liters per hectare for this classic (Kamptal DAC) Version. Two Reserves from Heiligenstein (Lyra, Alte Reben) are used to be harvested later in the year.
From a geological point of view the Zöbinger Heiligenstein site is not only the oldest but probably also the most interesting on our estate: the soil consists of approximately 270 Mio years old Perm desert sandstone. The sediments contain volcanic inclusions and carbonized remains of primeval vegetation. The uniqueness of this soil, its perfect gradient and position (SW to SE in a climatic borderland) provide ideal preconditions for growing outstanding wines. During the day warm winds (often due to the effects of the Pannonian climate) mount along the site whereas by nightfall cool gusts from the North start blowing through the Kamp Valley and bring forward the aromatic expression of the grapes.
The Library Pack 
The litmus test here will be the '14. The little orphan vintage that nobody loved. In fairness, many of those botrytis-y Rieslings
weren't easy to love—but: "If there is a great 2014 Riesling, I have it in my glass," one of us said as this wine was tasted. No "if" about it, friend. This is a great Riesling.
Not "in spite of" 2014—because of it. Bründlmayer has made any number of splendid wines over the past quarter century,
but I'm here to testify: nothing should make them prouder than this very Riesling.
It's an apotheosis of green depth, primordial; a forest-floor the sun barely ever touches. Perfect balance and deliciousness in a
sapid green vein of pure mystery. The seeker finds his way to this, doesn't understand it, and is happy. Sits with it. Imagines the
old monks who created Chartreuse. Thinks of the meadows, wafting the breath of the warm afternoon, and the blender sitting
while the dark comes on.
Beautiful, inscrutable, it is the wine of some new language. Compared to this mystic being, the '16 is easily and tangibly marvelous. Sublime all the way to the adamantly stern finish,the wine is still billowing, starch and salty on one side, silvery-herbal and pear-blossom on the other. It's a wise child who started
speaking late but suddenly had a 400-word vocabulary.
The magisterially great 2012 is all herbs and stones and hay, all in an ever-shifting mosaic; exceptionally pure, Gregorian, woodsy,
even spicy and minty; it's Riesling asserting every one of its flavors that aren't flowers or fruits.
The wines make the most sense as a unit, each fitting over the other's shadow like a palimpsest
Info
Farming Practice:
Practicing Organic
Sizes Available
| | | |
| --- | --- | --- |
| Full Bottle | AT-BMY-22-22 | 12/750ml |
| Half Bottle | AT-BMY-22-22H | 12/375ml |
REVIEWS FROM PAST VINTAGES