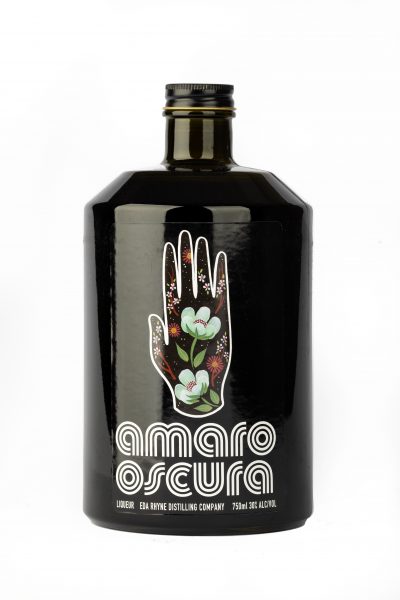 An exciting and decidedly unique take on an Italian rabarbaro (rhubarb root amaro).
Incorporates over 13 botanicals, many of which are wild foraged.
Primarily bittered with rhubarb—a portion of which Eda Rhyne soaks in corn distillate, dries, and smokes with hickory. Other featured botanicals include spicebush berries, cherry bark, spicebush twigs, and spring spruce tips.
Fortified with non-GMO corn distillate.
Aged for a minimum of one year in ex-rye whiskey barrels.
Chicory coffee, cacao, and burnt pine needles precede a palate of kola nut, orange peel, and black peppercorn with a finish of lemon zest, saffron, and rosemary oil in addition to the prevalent smoked rhubarb.
Non-chill filtered; 40% ABV
Info
Spirit Sub Type:
Amaro / Digestivi / Aperitivi / Bitter
Sizes Available
| | | |
| --- | --- | --- |
| Full Bottle | US-XER-03-NV | 6/750ml |
Tasting Notes
A brilliant take on an Italian rabarbaro, Eda Rhyne's Amaro Oscura is a decidedly unique interpretation of the rhubarb root amaro sub-category. Thirteen botanicals comprise the blend, many of which are wild foraged. In keeping with tradition, the primary bittering agent is rhubarb—a portion of which Eda Rhyne soaks in corn distillate, dries, and smokes with hickory. Other featured botanicals include spicebush berries, cherry bark, spicebush twigs, and spring spruce tips. Fortified with non-GMO corn distillate in true Appalachian fashion, Amaro Oscura is aged for a minimum of one year in ex-rye whiskey barrels. Chicory coffee, cacao, and burnt pine needles precede a palate of kola nut, orange peel, and black peppercorn with a finish of lemon zest, saffron, and rosemary oil in addition to the prevalent smoked rhubarb. Non-chill filtered; 30% ABV.