Sparkling Punch Jelly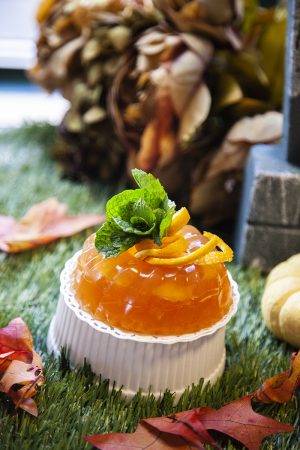 1.5 oz Rum-Bar Silver
3 oz prosecco syrup*
2 oz peppermint tea**
1 oz fresh lemon juice
4 dashes Angostura Bitters
2 grams agar-agar powder
Per 2 Servings:
Combine all ingredients and whisk to incorporate. Bring to a boil slowly over low heat and transfer to your non-stick mold or bundt pan. Cool in freezer until firm.
*Prosecco Syrup
Combine equal parts Prosecco and super-fine sugar. Whisk until incorpotated.This is a great use for left-over bubbles that have lost their verve!
**Peppermint Tea
Steep 3 bags of Peppermint Tea in 16 oz of boiling water for 10 minutes. Cool before use.