Smith Street Sour no.2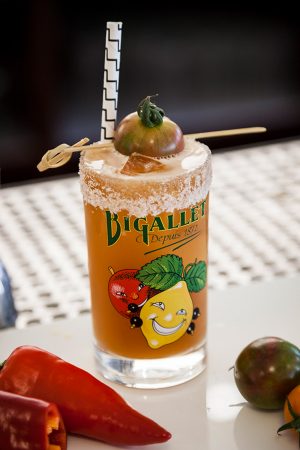 Muddle tomatoes gently in a mixing tin ; add remaining ingredients & ice ; shake with vigor ; fine strain over ice in a rocks glass with ½ salt or chili-salt rim ; garnish with cherry tomato skewer.
*To make balsamic syrup, combine 3 cups turbinado sugar (or sugar in the raw) with 1 cup water in a saucepan over low heat. Stir constantly to prevent the sugar from burning. In another saucepan, bring 3 cups of balsamic vinegar to a low simmer. When sugar is completely dissolved, add the simmering vinegar slowly and carefully, wearing oven mitts. Watch out!  The vinegar syrup will pop on the stove-top, and can burn badly! Stir for a few more minutes to combine fully, then chill. Kept cold, the remaining syrup will last for months, and makes a delicious addition to all kinds of dessert ideas.