Yves Cuilleron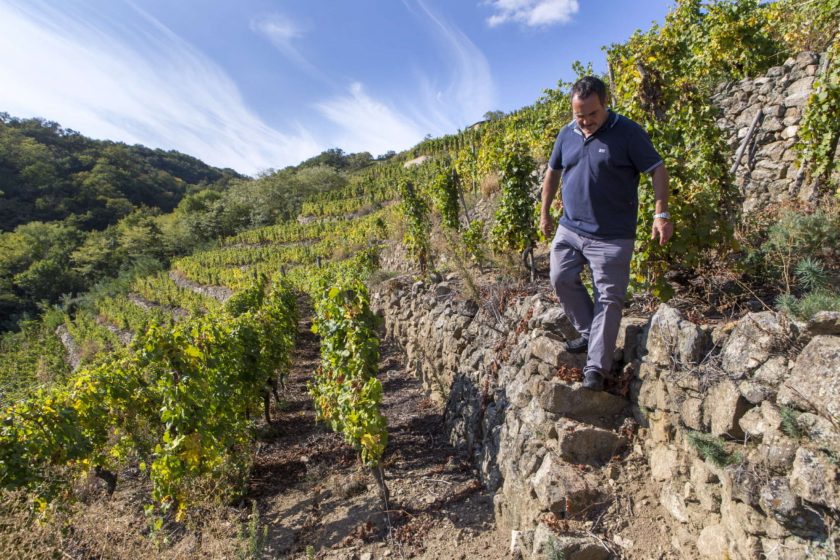 The Cuilleron family domaine, located in the hamlet of Verlieu (part of the town of Chavanay) was founded several generations ago (1920). Yves Cuilleron's grandfather was the first to bottle wine for commercial purposes in 1947. Antoine Cuilleron, the uncle and immediate predecessor of Yves, assumed control of the domaine in 1960 and significantly increased the percentage of wine bottled at the estate and extended the scope of the domaine. Yves assumed full ownership and direction of the domaine in 1987 and, since that time, has built an entirely new facility while at the same time acquiring additional vineyard property. The domaine is now (as of 2012) significantly larger in scope with 52 hectares of vineyards that cover multiple appellations, including principally, Condrieu, Saint Joseph Rouge and Blanc, Cote Rotie, Saint Péray and a series of Vin de Pays from the Collines Rhodaniennes.
Most of the vineyards are situated in and around the commune of Chavanay which is just south of the town of Condrieu; obviously, the holdings in Cote Rotie extend north into Ampuis and the holdings the furthest south are in the village of Saint Péray. A large majority of the vineyards are set on terraces which makes most mechanization difficult, if not impossible. Thus, much of the vineyard work continues to be done by hand. To control yields, Cuilleron does extensive debudding and, when necessary, practices a "green harvest".
In the cave, the grapes (harvested manually) are fermented using indigenous yeasts. The fermentations of the appellation controlée white wines are done in small barrel of one to four years age; malolactic fermentations are done in barrel as well and the elevage continues for nine months before the wines are bottled. The whites are in constant contact with the lees during elevage with regular batonnage. The whites are lightly filtered before bottling. The AOC reds are partially destemmed and the fermentation occurs in open top cuves for approximately three weeks. Pigeage and remontage are done regularly throughout the cuvaison. After the alcoholic fermentation the reds are racked into small barrel (aged between one and four years) for an elevage of approximately eighteen months. The reds are bottled with an egg-white fining but no filtration. The Vins de Pays undergo a more brief elevage (between six to eight months), some in barrel and some in stainless steel, depending on the cuvée.