Bernard Levet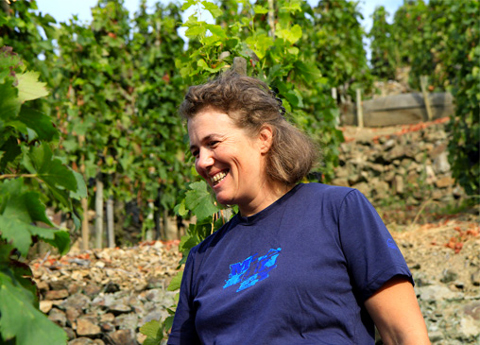 Nicole Levet's grandfather first purchased vineyards in Ampuis in 1936 and began making wine immediately thereafter. Initially, he delivered his Cote Rotie in barrels to the city of St. Etienne where he sold it to bistros and cafes for consumption by the miners of that city. In 1966, Nicole's father, Marius Chambeyron, began to bottle a small portion of the production of the estate.
Fortunately, Nicole and her husband Bernard Levet, were prepared to continue Chambeyron's life's work. It was with the formidable 1983 vintage that Bernard Levet took over the wine production as well as the management of the vineyard with Nicole. This exceptional couple has now been responsible for the development of the domaine, increasing the vineyard holdings and expanding the cellar capacity so that they can now bottle their entire production. Nicole and Bernard have now been joined by their daughter, Agnes, who has inherited the love for vineyard work and obsession with detail that are essential parts of her parents' character.
The Domaine's current total production is 12,000 to 15,000 bottles annually and is exclusively of the appellation of Cote Rotie.
The domaine consists of 3.5 hectares of vineyards, all of which are located within the boundaries of the town of Ampuis and are entitled to the Cote Rotie appellation. The vines are dispersed among six separate parcels:
"Chavaroche" (Cote Brune/southwest exposure/average age 40 years/1.2 hectare)
"Landonne" (Cote Brune/one-third hectare/entirely old vines)
"Font Jean" (Cote Brune/young vines/.15 hectare)
"Les Craies" (Cote Blonde/southwest exposure/entirely old vines/half hectare)
"Mollard" (Cote Blonde/southeast exposure/old vines/one-third hectare)
"Moulin" (situated just below La Turque/young vines/.4 hectare)
The vineyards are all steeply terraced and must be worked and harvested manually.
The grapes are generally not destemmed before passing through a pneumatic press. The primary fermentation takes place in epoxy lined cuves. There is a long maceration and the cuvaison lasts three weeks. The fermentation temperatures reach 30 degrees centigrade. The malolactic fermentation normally finishes by the end of the year. The wine is then racked into large oak barrels where it spends the remainder of its first year. At the beginning of the second year, the wines are racked into medium-sized barrels ("demi-muid") 10 – 15% of which are new. In the third year, the wines are racked again and left to complete the barrel aging in a mixture of "demi-muid" and small barrels. The wines are bottled after three years of barrel aging with a light fining and no filtration.