White Rock Vineyards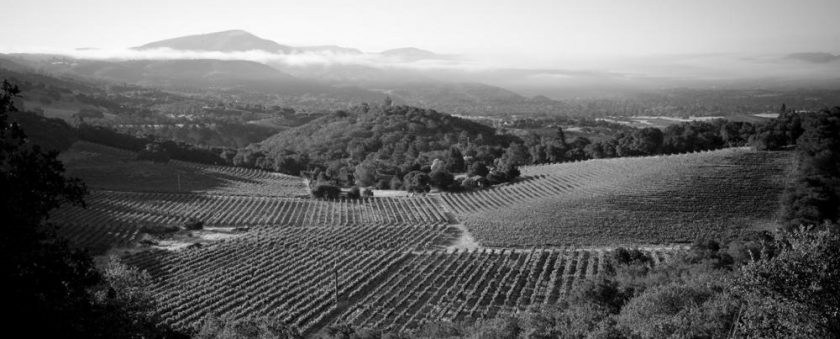 White Rock Vineyards produces elegant and balanced Napa Valley Cabernet Sauvignon, Claret, and Chardonnay, using only the fruit from the estate vineyard. This 36-acre family run estate is situated in its own small valley in the southern foothills of the Stag's Leap Range on the eastern side of the Napa Valley at the historic site of White Rock Vineyards, which dates back to 1870. Situated approximately 300 feet above the valley floor, White Rock Vineyards is defined by its volcanic soils and bedrock. A 64-acre valley shaped over millennia to form a natural bowl, the soil substructure is compressed volcanic ash, holding little nutrients, and yielding small berries which produce deep, intense, and rich concentrated flavors.
The original White Rock Vineyards land parcel was purchased by Dr. Pettingill in 1870. In 1871, using only a hand saw to cut the white rock he quarried from the property, he constructed a winery in which he would process 7,000 gallons of wine per year. Henri and Claire Vandendriessche purchased the property in 1977 and set to work restoring the winery to its original glory. In 1987, the Vandendriessche family bored a 6,000 square foot cave into the volcanic hillside of White Rock Vineyards. Henri worked with Engineer Alf Burtleson, who later designed caves for Far Niente, Newton, Pine Ridge, and Robert Sinskey, among others, using an old coal mining machine. A constant 60 degrees, the cave provides the ideal temperature for the production and cellaring of quality wines. Unique to White Rock, Henri designed a series of niches in the caves, where all red wine is stacked and aged for 2-3 years after bottling.
The estate is a small valley consisting of 22 acres of terraced hillsides planted predominantly to Cabernet Sauvignon, with blocks of Cabernet Franc, Merlot, and Petit Verdot. The cooler, 14-acre benchland at the estate is planted to diverse clones of Chardonnay, with the oldest vines dating back 35 years. The estate is farmed naturally, and has never been subjected to herbicides, pesticides, or fumigants. Vine spacing and trellising were designed from the start to produce loose clusters that hang freely in a light, aerated canopy which reduces the need for chemicals and improves the ripening process.
This is a true family estate, with Christopher Vandendriessche as Winemaker since 1999 after working under John Kongsgaard and Michael Vandendriessche managing the vineyard since 1996.