Künstler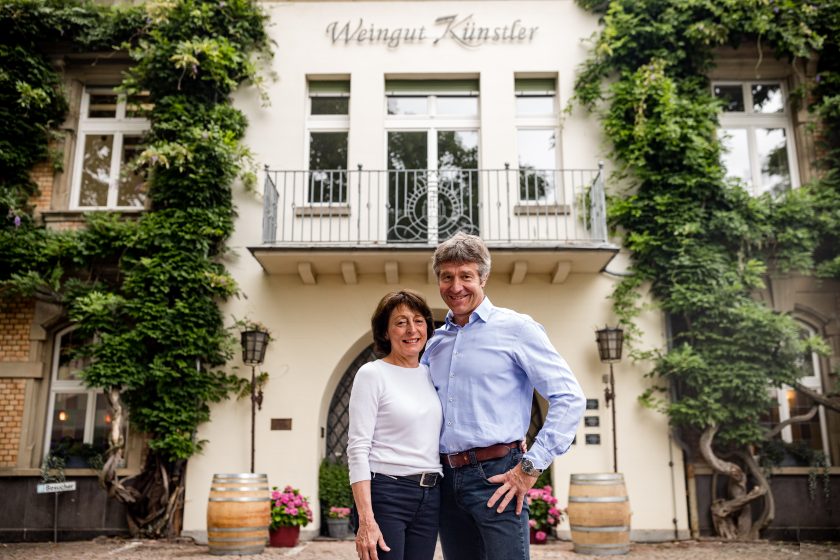 Weingut Künstler (35 hecatres)
Hochheim am Main / Rheingau / Germany
Gunter Künstler comes to us from the famous village of Hochheim am Main; in the 17th century Britain the term 'Hock' was used to describe all Rhinegau wines. At that time, these wines were much more famous than Mosel wines and were more expensive than some of the finest Bordeaux. Thomas Jefferson visited the region in 1788 and described Rheingau Riesling as "small and delicate Rhysslin which grows only from Hochheim to Rudesheim". He was so impressed with the quality that he found here, he took 100 cuttings of Rheingau Riesling back to Monticello. Hochheim was quite famous long before this and the region was known for producing quality wines in the Shakespearean era. Both 'Hock' and 'Rhenish' can be found in Shakespearean texts. Hochheim am Main is on the banks of the Main River, which flows west from Frankfurt, meeting the Rhein at Mainz, on the other side of the river from Hochheim. Essentially the vineyards in this village are at the cross of these two rivers, which certainly influences the wines produced here. Weingut Künstler has a history dating back to 1648.
Until the end of World War II, the family grew grapes on their estate 80 km north of Vienna, in Untertannowitz in the South Moravian Region in the Czech Republic. After expropriation and expulsion, Franz Künstler was forced to leave the homeland of his family and in 1965 he re-established the Weingut Künstler in Hochheim Main/Rheingau. In 1992 his son Gunter took over the estate, and in 1994 the estate was admitted to the VDP. Generally, soils here are loess, clay, sand, loam, marl and limestone. The greatest sites in the village are Domdechaney (pronounced Dom-Dey-Sha-Nay), Kirchenstück, and Hölle while you could consider Herrnberg and Stielweg 1er Crus.
Because of the proximity to two rivers, the climate in Hochheim is rather more humid than its environs. This complicates Gunter's urge to move in an organic direction, though he says "Generally we are working without any herbicides since 1992 and we grow on 11 hectares organically. Here we have three blocks of about 3.5 hectares. In the future, we will move step by step to 100% organic, but this, in our warm and humid microclimate, is not easy. Finally, I have to make ends meet and to pay my employees. In order to produce dry Rieslings we have to protect against botrytis in every production step." Cellar work is generally in line with the norms among elite producers. Musts settle by gravity and are pressed clear. He ferments with cultured yeast because it's often still warm when grapes are being picked and to work sponti would mean a greater risk of volatile acidity. The cellar orients toward cask as opposed to steel, though each is used. Wood gives the ideal low-tech micro-oxygenation. The overriding goal is to produce wines with "heart and soul". The wines are very pure, clean, and precise, without tasting as though they've been sanitized and had the character stripped out of them. They are detailed and meticulous, but also delicious and satisfying.
Vineyard area: 35 hectares
Founded in: 1965
Top Sites in Hochheim:

Domdechaney: Grand Cru, Löss, loam, gravel
Kirschenstück: Grand Cru, heavy lime bedrock, with löss, loam, and sand
Hölle: Grand Cru, Very steep site with clay, marl, lime

Grape varieties:  Riesling, Pinot Noir, Chardonnay, Sauvignon Blanc
Farming Practice:
Sustainable