Tattersall Distilling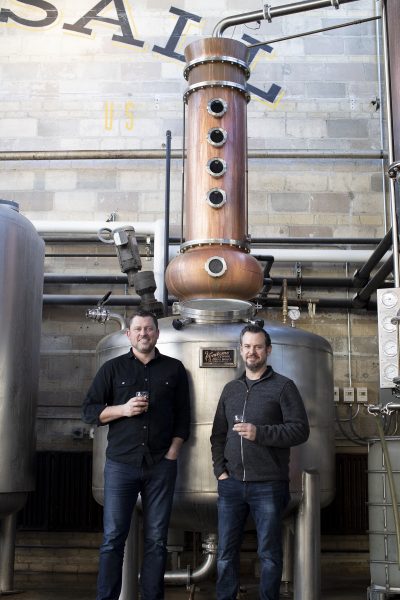 Tattersall Distilling, based in Minneapolis, Minnesota, and launched in 2015, produces a range of spirits, liqueurs, and ready-to-drink cocktails that are distilled with an eye towards craft, regional sourcing, sustainability, and approachability.
Founders and childhood friends, Dan Oskey and Jon Kreidler, imbue Tattersall's DNA with a compelling history of complementary professional experiences. Dan is a hospitality veteran who has established successful bar programs within the Twin Cities and was voted Minneapolis Eater's Bartender of the Year in 2013. Respectively, Jon lends his business acumen to Tattersall, honed during a career in finance. After being inspired by craft distilling trends on the West Coast, Jon enrolled in the Artisan Distilling Program at Michigan State University to better prepare for the enterprise of building Tattersall. With the added insight of Bentley Gillman, Distillery Manager, and his extensive background in foraging and experimental fermentation and distillation, the team is able to craft an impressive array of spirits on a core set of Vendome stills, while using a 50-gallon, hybrid alembic still for R&D, which allows them to push the limits of experimentation and remain nimble with small-batch releases.
Placing an emphasis on regional sourcing, the corn, wheat, rye, and barley used in Tattersall's base distillates are grown on two family-run farms located only fifty miles from the distillery, including the family farm of Head Distiller, Bentley Gillman. The organic apples used in Tattersall's liqueurs are sourced in Minnesota, cranberries from Wisconsin, and cherries and blueberries from Michigan.
In regard to sustainability, Tattersall has this to say:
"Tattersall is committed to cutting its carbon footprint. Working with Hennepin County and the City of Minneapolis, Tattersall has implemented a comprehensive organics program to compost all botanicals, food waste, straws, cups and more. All spent grains from distilling are stored in a 10,000-gallon silo and picked up weekly by one of our farm partners who uses it to feed his pigs. We're proud that our grains are sourced in Minnesota—with a majority only 45 miles from our front door. In collaboration with the University of Minnesota and the Land Institute, we're also experimenting with perennial grains such as Kernza® and perennial rye. Other high-quality ingredients we use in the distillery and cocktail room such as apples, honey, maple syrup and more are all sourced within 100 miles of the distillery."
Tattersall's combination Distillery and Cocktail Room provides the perfect environment in which to refine how its spirits are used in cocktails, allowing the team to experience firsthand how they are best enjoyed by guests and consumers and adding yet another layer to Tattersall's thoughtful methodology. In addition, Tattersall recently finished constructing an expansive, sustainable distillery in River Falls, Wisconsin.