Land of Saints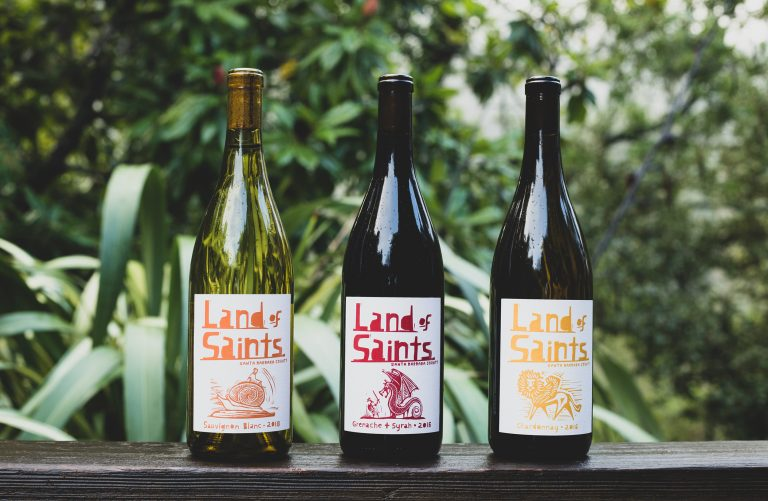 Three friends.
Four cultures.
One California sun.
A collaboration between Angela and Jason Osborne (A Tribute to Grace Wine Company), and Manuel Cuevas (C2 Cellars), who met during the 2013 vintage and have been discussing sunshine, moon signs and our Kiwi/Cornish/Mexican-American roots ever since.
Three founders stem from three beautifully different corners of the globe, united by a love of California and the vinous expressions of Santa Barbara County.
A little bit about the name Land of Saints – I hail from the county of Cornwall in Southwest England which has a rich and ancient history. Around 410AD the country entered a period known as the 'age of the saints' as holy people came and lived in this stunningly beautiful county. In the following centuries over 70 of them left their name as a legacy to the land, as a result, Cornwall became affectionately known as the 'Land of Saints'. I've always loved the name and on a more holistic view, I like the idea of a land filled with Saints… it would make for quite a place! After moving to California, I found a new Land of Saints (we counted 33 Sans and Santas). Golden, with open skies, and a friendship that will last a lifetime.Jason Osborne, Land of Saints Wine Company
Our focus is on this beautiful valley we call home. Varietals and sites will differ from year to year, intentionally. The three of us live on the Central Coast, and are forever amazed at how many sites provide so many differing expressions.
The quote on the back label refers to an old Cornish saying (it sounds quite amazing when heard through Jason's accent): What's said of old, is said in truth. Applied to wine, this conveys our intentions to being true to where we are, and crafting honest expressions of this ancient golden land, in the year we find ourselves.Angela Osborne, Land of Saints Wine Company
Over the past twenty years, I have been lucky enough to work with and learn from an amazing group of local winemakers in both San Luis Obispo and Santa Barbara counties.
I've grown to appreciate working with varietals from both warm and cool climates, and I love that both of these viticultural areas offer such a vast range of styles. This is the beauty of the incredibly diverse place we call home: the Land of Saints.Manuel Cuevas, Land of Saints Wine Company
Farming Practice:
Practicing Organic