Aubry Fils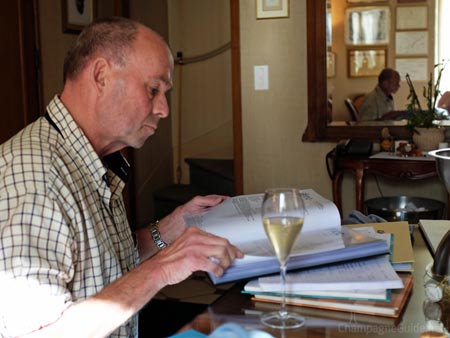 Region: Montagne de Reims
Premier cru sites in Jouy-les-Reims, Pargny-lès-Reims, Villedommange and Coulommes-la-Montagne,
Total vineyard holdings: 15 hectares
Annual production: 10,000 cases
Vines: 30% pinot noir, 40% pinot meunier, 30% chardonnay
L. Aubry Fils (JOUY-LES-REIMS)
Philippe Aubry works with his brother Pierre and brother-in-law Noël Poret and has been trying to give expression to Champagne's indigenous varieties such as Arbanne and Petit Meslier, as well as Pinot Gris (the local name is Fromenteau) and Pinot Blanc.
Philippe and Pierre Aubry run their family estate in the Premier Cru village of Jouy-lès-Reims, located in the western part of the Montagne de Reims. Philippe's son Max joined his father and uncle at the domain in 2020 and is poised to carry on the legacy of his father and uncle. The family traces wine growing to 1790 and are well known for growing ancient grape varieties still permitted in the Champagne A.O.C. Aubry's wines are original and individual, representing flavors that fall outside of the typical profile of Champagne. Pressing is done in traditional Coquard basket presses and vinification here is mostly in stainless steel, apart from Chardonnay, which is vinified in wood for some cuvées. The basic "Brut Classique" comes from a perpetual cuvée, started in 1998. Some of this perpetual cuvée—sometimes incorrectly referred to as a "solera"—is held mostly in stainless steel, while a portion is in used barrique. This adds a level of complexity to the non-vintage wine, a standout in the region.
Farming here is moving towards organic, especially since Max joined the estate. He comes from a background in computer science and is managing the administration of the estate but is deeply interested in viticulture and winemaking. Over the next five years, Max will take on an increasing role in viticulture and winemaking, transitioning fully to organics. The soils in this part of the Petite Montagne are unique, with a high proportion of fossil-bearing limestone, which gives lift and high acidity to the wines. Due to the naturally high acidity of the wines, full malolactic fermentation is allowed in all cuvées; Aubry would prefer to have slightly lower acidity and be able to use lower dosage to find balance.
The Aubry brothers also grow all seven of the legal varieties permitted in Champagne, which they are well known for. In addition to Pinot Noir, Pinot Meunier, and Chardonnay, they have Arbanne, Petit Meslier, Fromenteau (Pinot Gris) and Pinot Blanc planted. These varieties are used for several special cuvées as well as making up about 5% of the blend of the Brut sans année. Pierre and Philippe also make a few wines in what they refer to as a "Sablé" style, using about 16 grams for the tirage, rather than the normal 24 grams, resulting in a much lower pressure wine.