Rudy Marchesi is the President of Montinore Estate and Chairman of the Demeter USA organization, an association that seeks to expand the impact of biodynamic farming practices throughout America. Rudy was named "Person of the Year" by the Oregon Wine Press in 2018 and has been deeply immersed in the practices of biodynamic farming since he moved to Oregon more than twenty years ago.
Montinore is one of the largest producers of certified estate wines made from biodynamic grapes in the country, with a total of 230 acres under their stewardship. Allison Rahill is a member of the American Portfolio team at Skurnik Wines and recently discussed this past vintage in Oregon with Rudy, along with his commitment to biodynamics and what inspires the future of Montinore Estate.
SKURNIK WINES: Can you run through your background for those folks that don't know much about Montinore and your history with biodynamics?
RUDY MARCHESI: I started making wine 40 years ago, wow, 40 years ago plus. I started my own brand in 1983 and I've made wine on both coasts starting in New Jersey. I've always had a keen interest in viticulture as well – that's the exciting part for me. Oh, there was also a stint in wholesale to put my daughters through college, but I always wanted to be in the vineyards.
When I got to Oregon, I had the opportunity to work where organic viticulture was viable and took Montinore along that course. I took a course at the Pfeiffer Center in New York in 2003 and from there was able to successfully convert Montinore over a few years. We got certified by Demeter USA in 2008.
I've continued to pursue that course of action in viticulture because I believe it does a number of things. We have healthier vines, they are more connected to the place where they're grown, they're more expressive and resilient to virus. This year was a great example where conventional growers were singing the blues about mildew and mold, but our fruit was really clean right up to the last week. This year was a testament to how biodynamic farming creates stronger vines over the long term; vines that can tolerate swings in conditions – be that temperature or rain – and pull through to produce a good crop year over year.
SKURNIK WINES: Who is Stephen Webber? Who else plays a part in the winemaking team at Montinore?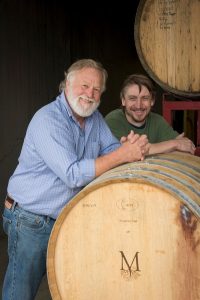 RUDY MARCHESI:
Stephen came to us in 2006 and I hired him as the assistant winemaker. He had a winemaking background in Alsace and Australia and spent time in Washington and Oregon as well. He proved himself as the Assistant Winemaker in the early years and several years later, we split the winemaking duties in white and red winemaking. He was the White Wine Head Winemaker for a few years and then I promoted him in 2016 to be the head winemaker.
We hired a really talented young guy by the name of Ben Eyre as the assistant winemaker and Ana Mattsinger as a consultant – she was the head winemaker at Archery Summit for ten years and now works privately.
We've put together a great team, probably the best team we've ever had here, and they're doing some great work.
SKURNIK WINES:

Can you explain where the fruit comes from and the differences between the Estate Vineyard and Tidalstar Vineyard? Is it changes in soil type or elevation that distinguishes these properties? Can you note any anticipated changes coming down the line, specifically with regard to biodynamic certification?
RUDY MARCHESI: Everything we make is 100% Estate fruit, with the exception of Red Cap Pinot Noir. Red Cap is 70% Estate and the remaining 30% is contracted fruit from three properties, one of which is biodynamic and the second which is LIVE certified, in the Chehalem Mountains. The third is LIVE certified and they're progressing to organic farming in the Eola-Amity Hills.
We've been farming Tidalstar biodynamically since we bought it – so this is our third season farming it that way. Unfortunately, it won't be certified this year because the previous owner did a post-harvest sulfur spray, which is fine, and this actually complies with biodynamic standards. However, they used a tool that was not "OMRI" certified, so we'll need to wait one more year. Regardless of certification, we're already seeing the effects of the farming on the vines. The fruit was impeccable when we harvested it and Tidalstar is about one week ahead of the home vineyard – all of harvest is done by the end of September. Furthermore, the soil types and elevation are different. The elevation at Tidalstar is about 100 feet higher and it's located farther west than the home vineyard.
SKURNIK WINES: Is this vineyard exclusively Pinot Noir?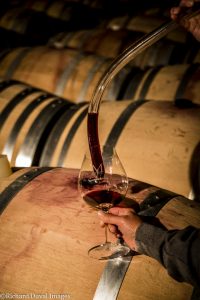 RUDY MARCHESI: It's all Pinot Noir, with the exception of two acres of Chardonnay. The significant difference is the aspect – it's more southeast facing in exposure whereas the home vineyard is due east, which brings a little more heat to the Tidalstar vineyard.
We get a really nice diurnal range of temperatures as well – it gets much cooler at night at that vineyard too. The soils are very different between the two: the home vineyard is primarily Missoula Flood Loess and will eventually be a part of the new AVA – which is called Tualatin Hills. We have word from the TTB that that is pending. The significance of that AVA is the predominance of the Missoula Flood Loess soil because all of the wind-blown Loess is centered in this basin.
The Tidalstar Vineyard is in the western part of the Yamhill Carlton AVA. The balance of Yamhill Carlton is marine sedimentary soils. However – in the western edge where we are is marine sedimentary soils made of sandstone and basalt, which is volcanic material that cooled under the water. This combination creates a distinct character of a very intense, almost rocky quality. This is a nice balance from the ripe blackberry notes that we get at the home vineyard. We're very excited about that.
SKURNIK WINES: One of the most attractive selling points for this wine is its connection to biodynamics, especially at this price point. Do you foresee the Red Cap Pinot Noir returning to its biodynamic certification and if so, when?
RUDY MARCHESI: There are two ways that may happen. We just bought another 176-acre property in Yamhill Carlton, which we'll start planting this fall. Over a two-year period, we'll put in another 100 acres of vineyards and 80% of that will be Pinot Noir which will go into the Red Cap bottling.
Our plan moving forward for the Red Cap will be to make it 100% Estate. For now, one vineyard we buy from is certified biodynamic, but the other one we had been training is now qualifying for organic. The third vineyard is LIVE certified and is progressing to organic. The 2018 and 2019 vintages will be LIVE certified and I'm hoping we'll achieve biodynamic certification over the next several years.
SKURNIK WINES: Knowing how large previous vintages in Oregon have been can you tell me more about this harvest in comparison to years past?
RUDY MARCHESI: This year was very interesting – we started the year very dry, so the vines were a bit smaller in size and the berries were tiny, to begin with. We had some rain during the summer, which wasn't enough to moisten the soil but in September the heat accumulation in 2019 was almost identical to 2018 – which was a warm year. Early September was typical and traditional for Oregon and we had a couple of inches of rain in the first week, which was very welcome – this gave the vines a boost and helped them to start photosynthesizing. There was no threat of mold or mildew due to our method of farming and the care we take in the vineyards.
What was unusual was the rapid phenolic development – the colors of the grape skins darkened, the tannins became softer and more complex, the canes lignified quickly. We saw the sugars drop a bit, but there was no loss in flavor or color – the result was a nice, balanced wine with moderate alcohol levels in the 13+ range, which is a nice departure from pushing 14. The chemistry is interesting as well because the fruit is coming in at much lower pH, which results in bright aromatics and fresh notes on the palate and the aroma.
Overall, we're very excited about this vintage: it was a warm summer, followed by a more classic, cool-climate fall and this had an interesting and positive effect on the vines. Pinot Gris is showing really nicely right now, of course, it's still fermenting, and we're just picking Riesling today.
SKURNIK WINES: Is there anyone locally or in the US that is doing what you're doing at a similar scale?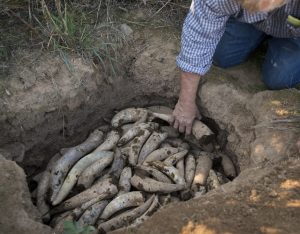 RUDY MARCHESI: There's a few of us – large biodynamic producers – Maysara Winery in McMinnville – Mo's doing a really great job. There are a few growers in California that are biodynamic and on the larger side, but probably less than a half dozen. I'm also on the international biodynamic vintner committee and we work together to discuss challenges, research, and the curriculum for the international biodynamic conference. This event takes place in concurrence with the Biodynamic Agricultural Conference – and will be held every other year. This is an amazing opportunity to share my thoughts, ideas, and challenges with an international pool of growers to see what others are doing to move their vineyards forward in terms of quality and consistency.
SKURNIK WINES: Outside of Oregon, what region is the most inspirational to you for its winemaking style or history? What are you striving toward in future vintages for Montinore? 
RUDY MARCHESI: Well, I think the answer everyone thinks I will say is Burgundy… but on the white side, we're really inspired by Alsace and we take our Pinot Gris very seriously. It's a flagship wine alongside our Pinot Noir. Personally, I've always been inspired by Piedmont. I think people have noted that and written about a stylistic theme in our wines – that there's a savory quality and a slight earthiness that persists. It's partly the terroir and partly the way we manage things and that's what I like about Piedmont. You have this ripe fruit with a savory quality that makes a yin-yang in terms of the flavor profile.
We're not growing Nebbiolo here (except for a little in my backyard). With Pinot Noir, we stray away from the plush fruity notes that I don't think are as engaging and move toward the side of finding that balance between savory and ripe fruit. I also grew up around those Northern Italian wines, and that style sticks with me when I'm driving the direction of our production. More than anything – we're making wines in the style of Montinore and we'll continue to do so. 

Pinot Noir 'Red Cap', Montinore Estate
This is a carefully constructed blend of wines produced from different geographical area and soils from within the Willamette Valley appellation.
Predominantly Laurelwood soils, this wine also includes grapes grown in volcanic and marine sedimentary soils.
The estate utilizes mostly French and Hungarian oak storage vessels for maturation and development, 21% of which is new.

Seven different blocks from the estate contribute to this wine, where the average vine age is 26 years.
The wine was fermented in stainless steel, with a mixture of yeasts including indigenous.
Variations in pressing cycles, yeasts, vessel size, temperature and lees ageing allow for complexity and personality to shine through in the wine.