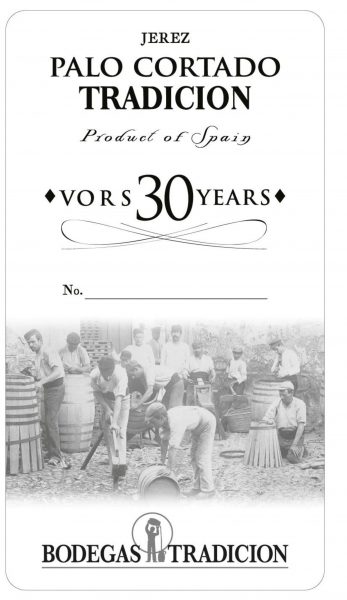 This rarest dry-wine style exhibits characteristics of both Amontillado and Oloroso, in its perfume and body. A very special selection of wines is aged in the traditional Solera system for many decades in seasoned American oak barrels. Average age: 32 years • Volatile acidity: 1.01 gr/l • Total acidity: 7.39 gr/lt • Alcohol Content: 19.5% • Grape Variety: Palomino fino 100%
Info
Appellation:
Jerez - Sherry
Sizes Available
| | | |
| --- | --- | --- |
| Full Bottle | ES-TRD-42-NV | 6/750ml |
Press & Reviews
Wine Advocate
"The N.V. Palo Cortado is a V.O.R.S. 32 years of age. Medium amber-colored, it has an exceptional bouquet of nuts, apricots, and marmalade. Intense and smooth textured, it has exceptional length. "
Spectator
"A stylish palo cortado, with orange blossom, dried nectarine, green tea, ginger and date notes threaded with a subtle iodine edge through the finish. Rather high-toned, but this dances along beautifully. Drink now. 200 cases made."
Wine & Spirits
"Tradición has built a strong reputation as caretaker of some of the region's most unusual old wines. This Palo Cortado, for example, comes from wines an average of 32 years old, in an oxidative process that seems to have removed everything superfluous, leaving only the essentials. It smells and tastes of sea breezes and albariza soil as white as chalk. Intense and slightly spicy, it attacks the palate with its vibrant acidity, the firm texture filled out with notes of nuts and green olives. Open the bottle to drink it over the course of a month, or maybe a year. Keep it in a cool, dark place and see what wonders oxygen will bring."