Ried Marienthal Leithaberg DAC Blaufränkisch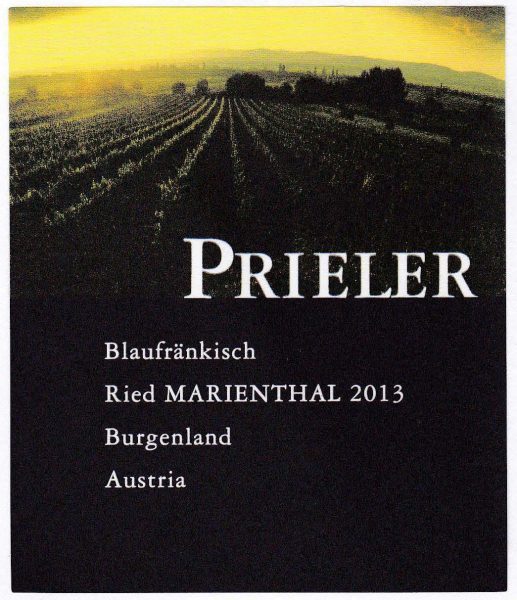 The name of today's Ried Marienthal can be traced back to 1881 and it is one of the oldest and most famous sites on Lake Neusiedl. The vineyard was evidently on everyone's lips even earlier. In the year 1476, it was called "Marchteil" and stems from the Old High German term "Mark", which means "border". Locals call the approximately 10.3 hectare vineyard "Moaritoal" in our dialect.
Marienthal is legendary for its Blaufränkisch and the Prielers have had Blaufränkisch vines in this vineyard for three decades, right there where the limestone base descends gently towards Oggau. Georg's father had to replant their parcel in this vineyard and because you can't truly express the potential of such a site with young vines, the family waited until 2011 to produce a single-vineyard Blaufränkisch Marienthal.
Region Burgenland
Winery Village Schützen am Gebirge
Grape Variety  Blaufränkisch
Appellation Burgenland
Vineyard  Marienthal
Soil Type  Pure marine limestone
Age of Vines (Average)  30 years
Fermentation & Elevage in closed tank fermented, the mash was just submerged; maceration: 4 weeks, expansion and storage in 500 l oak barrels for 20 months
Total Acidity 6.1 g/L
Residual Sugar 1.2 g/L
Alcohol by Volume (%) 13%
Info
Farming Practice:
Practicing Organic
Sizes Available
| | | |
| --- | --- | --- |
| Full Bottle | AT-PRL-43-20 | 3/750ml |
REVIEWS FROM PAST VINTAGES