Zidarich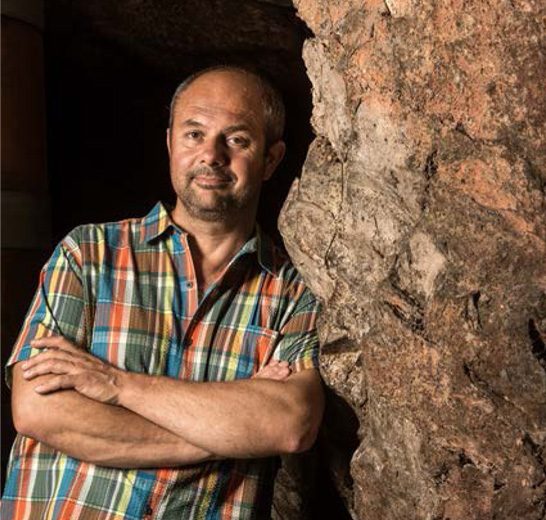 Benjamin Zidarich began in 1988 with just one hectare and has since grown his holdings to eight hectares, all of which he farms without the use of chemicals. He employs both Guyot and Albarello trellising, severely limiting the number of buds per branch in order to maximize each vine's intensity of expression. The vines grow in the classic iron- and calcium-rich red soils of the area, extending deep into the limestone that looms just below the surface. Benjamin works primarily with Vitovska, the classic local variety of the Carso, but he also has plantings of Malvasia and Sauvignon—as well as small amounts of Teran (another local variety) and Merlot for his reds. Harvest is done entirely by hand, and Zidarich's modest yields typically hover around 30 hectoliters per hectare.
In the cellar, Benjamin uses an old basket press, and—like others in the region that have re-embraced ancient, more natural methods—he keeps his white wines in contact with their skins for a few weeks during fermentation (which always occurs spontaneously). However, in comparison to the bold, unabashedly tannic, deeply copper-colored wines of someone like Gravner, the skin-contact influence in Zidarich's wines is remarkably subtle—their color remains relatively brilliant and vibrant, and the gentle tannins weave so tightly and seamlessly around the wines' pungent, clinging minerality as to be almost undetectable. These are first and foremost wines of minerality, not wines of skin tannins. Aging takes place in Slavonian barrels of varying sizes, and the employment of skin contact allows Benjamin to use the barest minimum of added sulfur. The wines are bottled without fining or filtration, typically two years after the vintage, and allowed to rest for a spell before being put up for sale.
Running through all of Zidarich's wines is a driving, dancing, powerful yet balletic minerality—an essence of pure stone. Even in those wines made from more assertive and aromatic varieties like Malvasia and Sauvignon, it is the limestone that takes center stage. They combine invigorating liveliness and profound, contemplative mineral heft like few other wines on Earth, capturing both the gleaming sunshine of his high-altitude vineyards and the cool depth of his cellar.