Quinta de Arcossó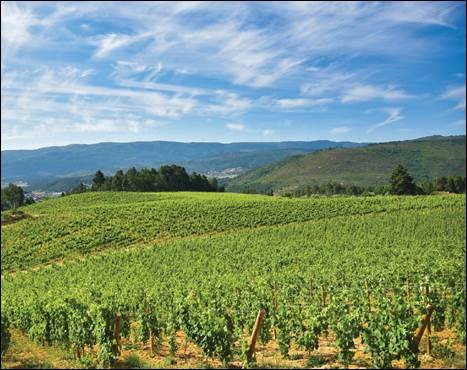 The little-known and little-exported Trás-os-Montes ("behind the mountains") appellation of northeastern Portugal is a fascinating and remote corner of the European winemaking patrimony. Like its neighbor across the border, Galicia, it's granitic, forested, and grows varieties brought from far afield centuries ago on the Camino de Santiago. Unlike Galicia (and its neighbor to the west, the Vinho Verde zone), it's landlocked and relatively dry, sitting as it does in the rain shadow of several mountain ranges.
It was here in the village of Arcossó in 2001 that Amílcar Salgado, a local native, acquired a few hectares planted in the 1920s and began making his own new plantations. Today, he counts 20 hectares of prime, southeast-exposed, steeply-sloped vineyards– and a reputation as a standout producer in this intriguing area. His philosophy is to bring in the highest-quality fruit he can and express the wild character of the zone with little intervention. The grapes arrive in pristine condition with minimal treatment—the dry microclimate and free drainage of his 20%-grade vines are a strong natural antidote to fungal pressure, and in fact Salgado hasn't used synthetic pesticide or herbicide in several years. His is also a 'château-model' winery practically encircled by the vines, so there's zero oxidation or compromise in the fruit during transport.
Fermentations proceed spontaneously, white or red, and all his reds ferment in traditional shallow open-top lagares and are treaded by foot during maceration. Elevage techniques vary sensibly according to the exigencies of the specific varieties of a cuvée. His entry-level white is a brisk, pleasantly aromatic blend with a touch of lees roundness. It's also a fabulous value. Somewhat unusually for the Iberian northwest, he produces several varietal reds, two fascinating examples of which we are proud to introduce: Bastardo (Troussea) and Tinta Amarela. The former, with its ravishing fruit character, handles some stems and elevage in chestnut. The latter, which even at perfect ripeness displays an herbal tinge, is destemmed and raised under the more caressing influence of (well-used) larger-format French oak.