Ulacia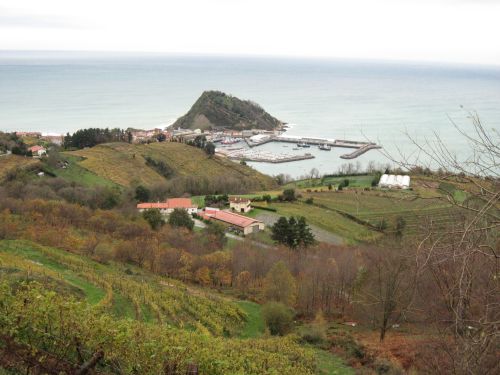 Wine does not have to be complicated. Nowhere is this better demonstrated than in Julian and Maia Ulacia's simple but functional winery above the small fishing port of Getaria, a few kilometres along the coast from San Sebastian in the heart of Basque country. This 6 Ha estate has been family owned since the 1940's. The winery produces a scant 6,000 cases of wine annually, most of which is consumed locally. Ulacia Txacoli (pronounced chak-o-lee) is a light, petillant white wine that is best served as an aperitif or with seafood.
Highlights
◊ The DO Getariako Txakolina was established in 1990.
◊ The DO is located just west of San Sebastian, the culinary cradle of Spain, known for having more Michelin starred restaurants per capita than anywhere else in Europe.
◊ The cool, wet climate in the north of Spain is completely distinct from more famous regions such as Rioja.
◊ The vines are hung from trellises that allow dry air to circulate beneath the bunches.
How to Serve
◊ Serve well chilled at between 6° and 12° Celsius (42°-52° F) in either a standard wine glass or a tumbler.
◊ Txakoli is typically considered a fun wine and is poured in bars throughout San Sebastian by holding the bottle high in one hand and holding a glass tumbler low in the other hand and allowing the wine to splash and foam while being poured.