Clos dels Guarans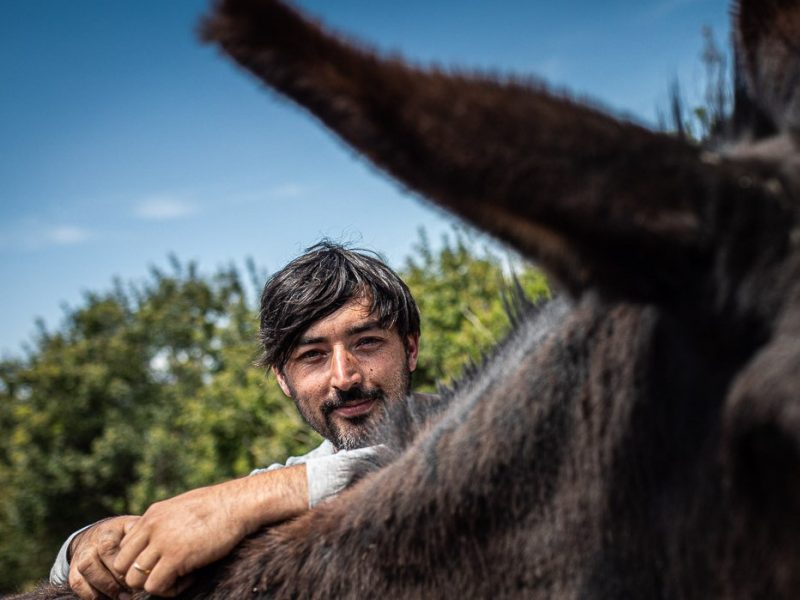 When Jordi Raventós was 18 years old, he began a project that would last a lifetime: the recuperation of his family farm, which had fallen into disuse, for the purpose of the defense and propagation of marginalized Catalan grape varieties. Many of the varieties that Jordi planted – Subirant Parent, Vinyater, Llimonero, Malvasia Rosada de Sitges – were in danger of being lost, so his farm now functions as a living shrine to the rich viticultural history of this region.
The name Clos dels Guarans is an homage to the Guarà, the storied Catalan breed of donkey that was immensely influential in the development of European agriculture over the course of the last millenium. The story of the Guarà echoes that of some of the grape varieties on the farm: a historically esteemed breed that is now in danger of extinction. In addition to raising and working with Guarans on the farm, Clos dels Guarans is a member of AFRAC, an organization dedicated to the protection and repopulation of these noble animals.
Vineyards & Viticulture
Clos dels Guarans is located in Santa Margarida i els Monjos, a small village in the southwest corner of the Massís del Garraf, the coastal mountain range that lies at the southern end of the Penedès appellation. The Massís del Garraf is a natural park that abuts the Mediterranean Sea between the tourist mecca of Sitges to the west and the Barcelona suburb Castelldefels to the east. The soils are relatively shallow and densely calcareous. The poor water retention and predominance of sunshine during the growing season create conditions for low yields, and the Mediterranean breeze, known locally as the marinada, ensures slow and even ripening. Here, the vineyards coexist with the Mediterranean forest. Pine, dwarf palm and mastic trees mingle with wild rosemary, thyme and fennel to create a richly-scented landscape whose aromas are often evident in the finished wines.
In The Cellar
"The only way to make soulful wines is to respect the land and work it with your own hands." This quote from Jordi succinctly describes his philosophy. The idea that wine is "made in the vineyard" has become something of a cliché these days, but perhaps it rings more sincere coming from a person who actually made the vineyard – planting it from nothing as a teenager and cultivating it for years before making and commercializing wine. He farms the vineyards organically and utilizes the help of donkeys, sheep and honeybees to supplement the work of human hands. Work in the cellar is similarly natural: fermentations proceed spontaneously from the activity of native yeasts, and the wines are raised in a combination of steel, wood and clay. No additives are introduced other than a scant dose of sulfur at bottling.
Farming Practice:
Practicing Organic