Atalier by Raúl Pérez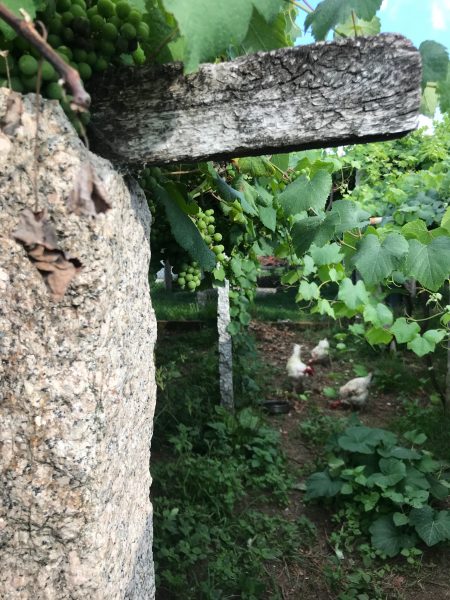 Atalier is the exciting new Rías Baixas Albariño project from the redoubtable Raúl Pérez, produced in conjunction with his friend and frequent collaborator Rodri Méndez of the Forjas del Salnés estate in the Val do Salnés subzone.
The origins of Albariño are not universally agreed upon, either by ampelographers or winegrowers. Some believe that the variety is native to the northwest corner of the Iberian Peninsula (insomuch as any grape can be considered truly "native" to Western Europe). Others believe that it was brought over by French monks in the 11th and 12th centuries via the Camino de Santiago. Still others believe its origins to be Germanic. "Alba" is a Latinate root for "white" and "Rin" is the Rhine River, so it's possible to interpret the name Albariño as "White of the Rhine".
Wherever it came from originally, there is no dispute as to Albariño's ancestral home in Spain: the Val do Salnés. The southern zones of the appellation were historically planted more to red varieties like Caiño Tinto, Loureiro Tinto and Espadeiro, and white varieties like Caiño Blanco, Treixadura and Loureiro Blanco (the latter two of which are still widely planted just over the border in Portugal), but the vast majority of those plantations were pulled up to make way for Albariño over the last three to four decades. With very few exceptions, Albariño vineyards that are referred to as "old" in Condado do Tea or O Rosal top out around 35-40 years of age. In Val do Salnés, however, it is still possible to find some very old parcels. Owing to the predominance of sandy soils in the coastal areas, there are even some plots that survived the phylloxera crisis of the late 19th century, thus making them some of the oldest un-grafted vitis vinifera plantings in the world. Atalier Albariño comes from a trio of such vineyards, all within a kilometer of the coast in the village of Dena.
Rodri Méndez, the unofficial conservationist-in-chief of the Salnés Valley, is the person responsible for scouting the vineyards and establishing the agreements with the owners, whom he has known all his life. Rodri's bonafides are rock solid: he's a member of the family that founded Do Ferreiro, one of the first commercial wine brands in the Rías Baixas. Its founding pre-dates the formal establishment of the D.O. by at least fifteen years, and it remains a reference point domaine, not just in the Rías Baixas, but in all of Galicia. Rodri has since split off to launch his own projects, but he remains almost religiously committed to seeking out, recuperating and preserving historic sites such as the ones that go into Atalier. You see, old vines are not very sought after in this new world of commodified Albariño. Most folks these days want to farm for kilos, and old vines are notoriously miserly with their yields. Almost every year, parcels of un-grafted, pre-phylloxera Albariño vines are either abandoned by people of advanced age or plowed under to make way for new plantations.
When we visited in July 2018, we didn't ask Vicente, the vineyard's owner, his exact age, but we're guessing he lands somewhere between 80 and 90 years old. He has looked after this vineyard for his entire life, like his father and grandfather before him. Though he's not entirely sure, he surmises that the vineyard was planted before his grandfather was born. Rodri Méndez estimates that the Albariño vines are somewhere around 150-160 years old on average, based on the breadth of the trunks and the paucity of the yield. There is at least one vine on the property that is an order of magnitude older than that: a single Caiño Tinto vine with a trunk as wide as a dogwood's and limbs that extend far and wide enough over its trellis to provide shade for a large patio. Vicente's children chose other vocations, leaving him without any heirs to carry on the family tradition of cultivating the vine, so Rodri now takes responsibility for the vineyard management and pays him for the agreed-upon share of the grapes at harvest. Vicente keeps a small portion of the yield to make a wine for home consumption.
With raw material like this, there's not really much to do but stay out of the way, and despite the abundance of accolades Raúl and his wines have received, staying out of the way is probably the thing he does best. There are two key decisions, however, that affected the way the wine came to show the character it does. The first concerns malic acid. There are certainly counterexamples, but the vast majority of Albariño on the market goes through at least partial malolactic conversion. The grapes have a very high level of naturally-occurring malic acid, so when picked at the usual time, they need a little bit of that conversion to avoid coming out shrill. Raúl, however, eschews malolactic in Albariño. In order to naturally lower the malic acid levels in the grapes and obviate the need for even partial conversion, he waits to harvest for as long as two or three weeks after most everyone in the zone has finished. This is not so much time that the grapes raisinate or arrive at unreasonable levels of potential alcohol (the finished wine is around 12.8% or 13%), but their malic acid levels do drop considerably. Raúl and Rodri like to say that they pick on the same day every year: "The day before it rains."
The other decision is to elaborate the wine in oak, standard practice for all the wines – white and red – that Raúl produces. These days, oak fermentation and aging are often disparaged out of hand as "modern" techniques, representing what the great Robert Hass would call "some tragic falling off from a first world / of undivided light" – some ideal of purity that is almost entirely apocryphal. This is especially true for white varieties that are expected to be made in a fresh, reductive style. But as with any polarizing issue in the wine world – sulfur comes to mind – context is of paramount importance. Putting Albariño into a new French 225L HT and racking it after six months into another one is modern (and sounds gross). Putting Albariño into large, used foudres to stimulate oxygen exchange during élevage is something that's been done for generations. The style we think of now when we think of Albariño – fresh, easy, fruity – is actually quite new. The first stainless steel tanks didn't arrive to the region until the 1980s! The prevalence of reductively raised Albariños in the market these days is almost purely a function of economics: stainless steel élevages save time, money and labor – simple as that. And the commodification of Albariño wines over the last twenty or thirty years has led to a philosophy of "pick, crush, ferment, bottle, sell" that has all but relegated this noble variety to the "cheap and cheerful" bin along with Verdejo.
The 'A Cruz das Ánimas' from Atalier by Raúl Pérez is an example of the ecstatic heights that old-vine Albariño can reach when treated with the respect, care, and patience it deserves. It is also is something that is becoming vanishingly rare in the world of wine today. Sites like these represent an ever more endangered piece of the cultural patrimony of Galicia. When we speak of the poignancy of visiting a site like this, it's not simply about un-grafted vines. Apart from the vines themselves, it's the tradition of passing jealously guarded parcels of land from generation to generation that is becoming increasingly difficult to sustain in the new global economy. A wine like this provides us with an opportunity to partake of this legacy and play a part in keeping what's left of it alive.