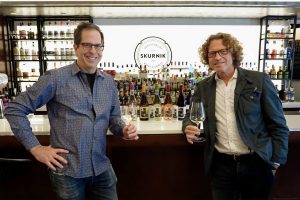 They say necessity is the mother of invention, and this story begins with a hole which needed filling. When Michael & Harmon Skurnik started The Pinot Project in 2009, it was to answer a call from their customers in New York who were looking for great quality Pinot Noir at a reasonable price.
Rewind the clock to 2005 when the movie Sideways earned an Academy Award and inadvertently awakened American thirst for this thin-skinned and temperamental grape. The demand for Pinot Noir far out-paced domestic production and ill-prepared producers found themselves ripping out Merlot and replacing it with Pinot Noir, whether or not the conditions were ideal. During the years that followed, consumers were forced to choose between a glut of under-ripe and over-manipulated juice at inflated prices.
---
Enter the Skurniks.
---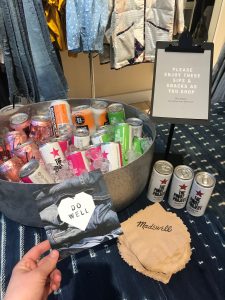 With just over 20 years under his belt at that time since starting his import business, Michael Skurnik knew he had the resources and the palate to improve upon the existing field of choices.  He and Harmon reached out to some friends in California's Coastal Regions to help them craft a silky, fruit-forward and well-balanced Pinot Noir.  After working their way through many blends, the final selection for their first vintage produced just 10,000 cases, but it set the tone for their house style – and launched an overnight hit in the process. Michael noted, "When Harmon and I set out in 2009 to make an honest, affordable Pinot Noir that people could feel equally good about popping the cork on Monday nights as well as on Saturday nights, little did we know then that we were somehow tapping into THE sweet spot for American wine drinkers. We are proud of the runaway success The Pinot Project has achieved!"
As an importer, the Skurniks continuously seek to assemble the finest selection of family-owned, and estate-bottled wines and spirits from around the globe.  It is with this same philosophy that they have approached the growth of their proprietary brand. In 2011, the Skurnik team began selling The Pinot Project nationally through their network of distribution partners. In just under a decade, the brand has grown to 100,000 cases annually, spread across their expanded lineup which includes a Chardonnay, also from California; a Pinot Grigio from Italy; and their newest release, a Rosé of Pinot Noir from Southern France. Last year, they introduced their wines in can and keg.  Now available in all 50 states as well as a number of international markets, the Skurniks have ushered the growth of The Pinot Project the Skurnik way: without compromising quality.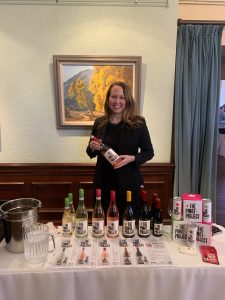 Last year, David Skurnik, one of the second generation of the Skurnik family and Harmon's son, took a calculated risk and submitted the lineup for review for the first time. After a nail-biting wait, the results were overwhelmingly positive.  Jim Gordon of Wine Enthusiast said of the 2017 Pinot Noir, "This is such a great buy from Importer Michael Skurnik who turned to California for this wine.  While supple in texture, the wine packs in dense red-cherry and ripe raspberry aromas and flavors that seem subtle at first but slowly expand with each sniff and sip.  It has good layering and an excellent balance of moderate tannins and acidity." All of the wines scored 90 and above.
Consumers are responding too. The Pinot Project grew by over 50% in the first quarter of 2019 and shows no signs of slowing. You might wonder, what will this growth mean for my trusty vino of choice? Fear not, friends! Harmon noted, "As far as the future is concerned, we have been vigilant and have secured enough premium sources of grapes so that, as production quantity grows, not only have we not experienced a degradation in quality, but the quality of the wines has actually improved. And we are confident that as we continue to grow, we will be able to continue this trend. We see the brand becoming an international success, and we are excited to bring The Pinot Project to any part of the globe that appreciates a great wine at a great price."
The Pinot Project can be found in venues like Madison Square Garden, Radio City Music Hall, Beacon Theater, Kravis Center, Duke's Restaurant Group, and onboard the upcoming launch of Virgin Cruises.  Whether grabbing a 4-pack of cans to take to the beach, perusing a wine list for the latest wine-on-tap, or picking up a couple of bottles to take to a party, you can feel confident reaching for the label with star. The Pinot Project is truly a wine for the palate, the pocket and the people.