Straight Bourbon Whiskey, 'Small Batch (Batch 6)'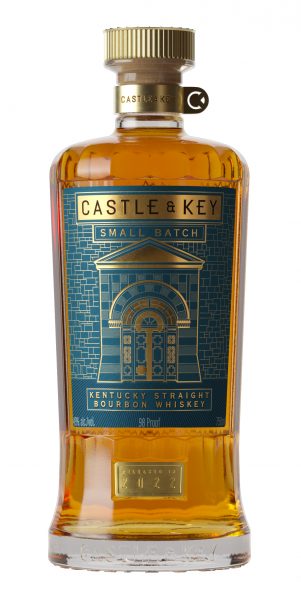 Straight bourbon whiskey produced by Castle & Key Distillery in Frankfort, KY
Mash bill of 73% white corn, 10% rye, 17% malted barley
Distilled in a Vendome copper column still
60 barrels blended in this batch
Minimum age of 4 years
Sandalwood, cinnamon, lilac, and Meyer lemon prime the palate for luscious notes of brown butter, salted caramel, cinnamon, and golden raisin. A medium sweet finish of clove and dates
Non-chill filtered; 48.5% ABV
Castle & Key takes a vintage approach to its bourbon blends, emphasizing the best expression of the barrels over a consistent flavor profile from batch to batch.
Info
Spirit Type:
American Whiskey
Sizes Available
| | | |
| --- | --- | --- |
| Full Bottle | US-XCK-05-06 | 12/750ml |
Tasting Notes
2022 marks the introduction of bourbon from Castle & Key Distillery in Frankfurt, Kentucky, with the release of small batches throughout the year. Blended from a pod of 60 barrels, this batch of straight bourbon whiskey contains a mash bill of 73% white corn, 10% rye, and 17% malted barley, and was aged a minimum of 4 years. Sandalwood, cinnamon, lilac, and Meyer lemon prime the palate for luscious notes of brown butter, salted caramel, cinnamon, and golden raisin. A medium sweet finish of clove and dates rounds out this confectionary bourbon. Each blended batch of this bourbon highlights different characteristics of Castle & Key's developing house style which emphasizes the finest expressions of American whiskey over a singular profile. Non-chill filtered; 48.5% ABV.