XWP-001
Rum-Bar Silver, Worthy Park
Founded in 1670 and continuously owned and operated by the Clarke Family since 1918, Worthy Park is one of the last remaining Jamaican owned & operated sugar and Jamaican Rum pure single rum producers left on the island. Currently, Gordan Clarke (4th generation) sits at the helm, as Director, working and living on the property. Located in St Catharine Parish, close to the geographical center of the island, northwest of Kingston, at an elevation of 1200ft, Worthy Park's 12,000 acres estate grows all of its own sugar and process all of the subsequent molasses that goes into each bottle of pot-distilled, rum. They even have enough sugar and molasses to share with distilleries around the island and beyond, who rely on that sweet, specific Jamaican nectar.
Producer:
Country:
Jamaica
Region:
St. Catherine Parrish
Spirit Type:
Rum
Spirit Sub Type:
Jamaican
Case Pack:
12
Bottle Size:
1000
Import Partner:
Back Bar Project
Tasting Notes
Rum-Bar Silver is a blend of three unaged rums, with fermentation times ranging from 30 hours up to 3 weeks. The rum is distilled in a 100% copper pot still and, in accordance with the Jamaican Rum Standard, no additives are used. Expect hints of supple coconut and light caramel, sweet vanilla cream, and subtle banana notes.
POS Resources
Request a shelf talker/case card
Related Recipes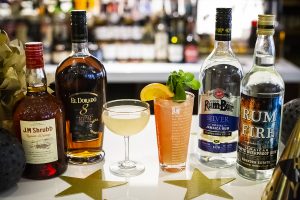 Rum-Bar Daiquiri