Bründlmayer Ried Zöbinger Heiligenstein 'Lyra' 1 ÖTW Kamptal DAC Riesling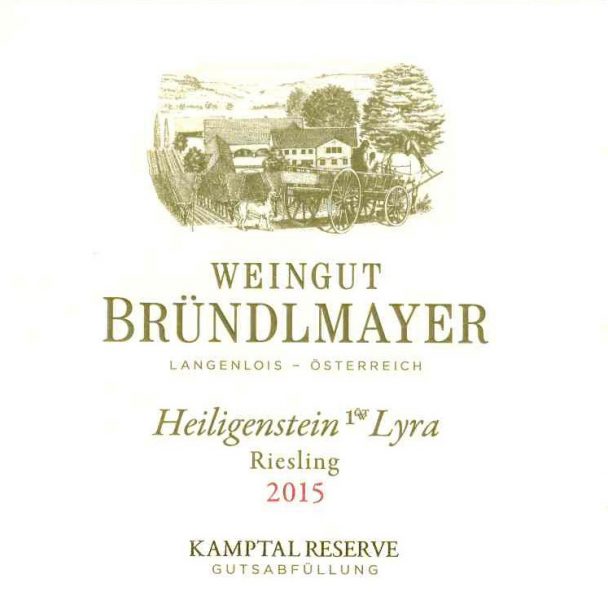 The Bründlmayer family owns 12 hectares right in the center of the Zöbinger Heiligenstein. 10,5 hectares are planted with Riesling. About 20% of the vineyards are trained in the Lyra trellis system. The other Heiligenstein vines are raised by the traditional Guyot method with the berries hanging 50-60 centimeters above the ground. Thinning is done as required to restrict the average yield to 3500-4000 liters per hectare for this classic (Kamptal DAC) Version. Two Reserves from Heiligenstein (Lyra, Alte Reben) are used to be harvested later in the year.
From a geological point of view, the Zöbinger Heiligenstein site is not only the oldest but probably also the most interesting on the estate: the soil consists of approximately 270 Mio years old Perm desert sandstone. The sediments contain volcanic inclusions and carbonized remains of primeval vegetation. The uniqueness of this soil, its perfect gradient and position (SW to SE in a climatic borderland) provide ideal preconditions for growing outstanding wines. During the day warm winds (often due to the effects of the Pannonian climate) mount along the site whereas by nightfall cool gusts from the North start blowing through the Kamp Valley and bring forward the aromatic expression of the grapes.
Region: Kamptal DAC Reserve
Vineyard: Zöbinger Heiligenstein
Soil: Sandstone
Altitude: 230 – 345 m – South & Southwest facing
Elevage: Stainless Steel
Alcohol: 13% vol.
Acid: 7.9 g / l
Residual sugar: dry
Info
Farming Practice:
Practicing Organic
Sizes Available
| | | |
| --- | --- | --- |
| Full Bottle | AT-BMY-23-19 | 6/750ml |
Press & Reviews
Wine Enthusiast
"Faint notes of ripe Mirabelle come with a notions of crushed lemon leaf while a certain citrus headiness makes its way to the pleasure center of the brain. The palate is bundled and compact, offering continuous bursts of citrus freshness. The effect is both exciting and cooling, invigorating and calming. Drink by 2050."
James Suckling
"In spite of the moderate alcohol content in this context, this is quite a substantial wine with a ton of depth. Still a bit shy on the nose with lots of dried and fresh herbs, this is much more suave on the palate, until you get to the tightly wound finish that's chock full of minerals. Better after 2020."
REVIEWS FROM PAST VINTAGES