US-RVN-01-16
Riesling 'Dry', Ravines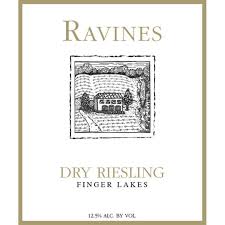 Ravines Dry Riesling is a unique and elegant expression of the Finger Lakes terroir. The bouquet of the wine is delicate with intricate aromas of white flowers mingled with pear, apple and citrus notes followed by a lingering mineral finish and a vibrant acidity.
Estate grown from the White Springs & 16 Falls vineyards, consisting of clones 198, 239, and 90. Exceptionally warm and sunny season resulting in very small cluster and ripeness. Harvest brix were between 21.8 – 22.8 Bx. These grapes were machine and hand harvested. The hand harvested grapes from  were whole cluster pressed. The machine harvested fraction were given skin contact prior to pressing. All components were fermented at low temperature in temperature controlled stainless steel tanks. After racking, components were aged on lighter lees over winter until April.
Producer:
Vintage:
2016
Country:
United States
Region:
New York
Appellation:
Finger Lakes
Variety:
Riesling
Color:
White
| | | | |
| --- | --- | --- | --- |
| Sizes Available: | SKU | Case Size | Bottle Size |
| Full Bottle | US-RVN-01-16 | 12 | 750 |
Press & Reviews
Parker
Score:
91
Date:
April 2018
Review:
The 2016 Dry Riesling is a blend of 16 Falls Vineyard on shale and White Springs Vineyard on limestone, unoaked, dry (just four grams of sugar) and coming in at 12.6% alcohol. Owner-winemaker Morton Hallgren called this "an unusually ripe vintage," allowing more time with skin contact. Although the statistics don't look very different than on its sibling this issue, this is a little friendlier, showing a bit more up-front fruit and less austerity as it airs and warms. I liked them both a lot, but I'd pick this if I had to choose today, a minor preference, which makes this an even better value than the White Springs single-vineyard wine this issue. Perhaps not quite as concentrated and not quite as age-worthy, this is still pretty close. It does everything beautifully, and then adds that extra touch of fruit. I won't be surprised if the answer is different in a few years in comparing the two—in fact, I suspect it will be—but the balance here is very good. Overall, this is a fine example of the value you can find in fairly basic FLX categories. This will go a bit better with food, I suspect, but it can do well on its own too.