Georg Breuer Rauenthal Nonnenberg [Monopol] Riesling Trocken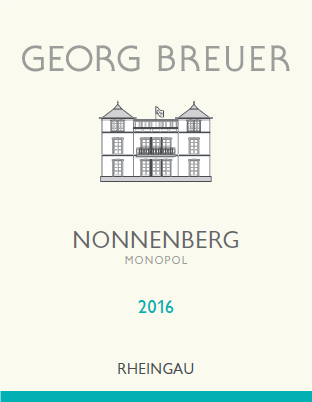 I find this to be the spirit-kin of Alzinger's Höhereck, something both numinous and inexplicable, with flavors you never imagined finding in something called "wine." This is markedly clear in the '17, which is a straightforward above-ground rendition, like the cool breeze after a squall. All to the good! Mysterious flowers, apricot blossom and Cox's orange pippin; the finish is like chewing iris petals; searching, angular, bewitching. Top Rauenthalers have the mysteries of great Nahe Rieslings, and we'd know this better if there were only more top Rauenthalers (this commune is ground-zero for Rheingau underachieving, alas).
Sizes Available
| | | |
| --- | --- | --- |
| Full Bottle | DE-GBR-18-18 | 6/750ml |
Press & Reviews
James Suckling
"This has a rich and very attractive, dry style with intense aromas of dried flowers, pears, peaches and apples. The palate is smooth and succulent with real clarity, gentle creaminess and a long sleeve of fresh-fruit flavor. Drink or hold."
REVIEWS FROM PAST VINTAGES