Kruger-Rumpf Abtei '1937' Riesling Erstes Gewächs Trocken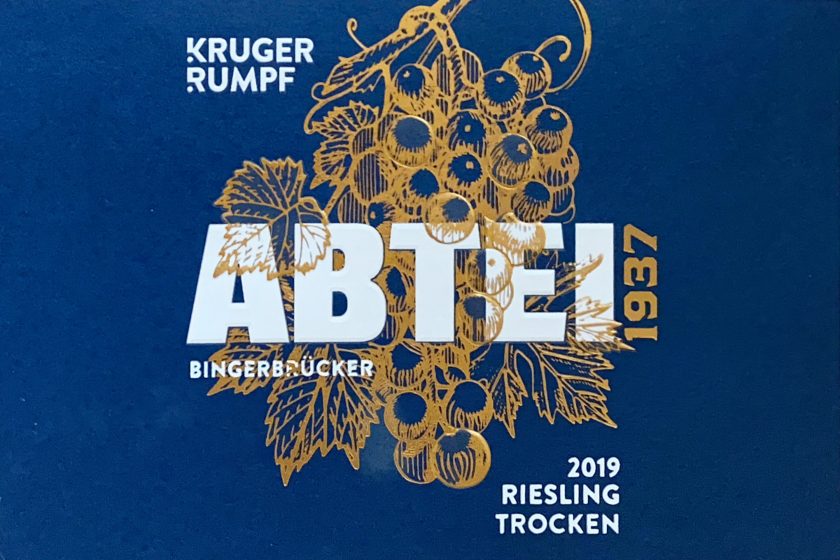 Region Nahe
Winery Village Münster-Sarmsheim
Grape Variety Riesling
Appellation Nahe
Vineyard: Abtei Rupertrsburg From the steepest parts of Abtei, some of the blocks planted before WW2 the rest in the beginnig of the 60s
Soil Type phyllit (slate) Phyllite is a foliated metamorphic rock that has been subjected to low levels of heat, pressure and chemical activity. It is composed mainly of flake-shaped mica minerals in parallel alignment.
Age of Vines (Average) up to 80
Farming Technique Sustainable
Fermentation & Elevage spontaneous fermentation in over 30 years old Stückfässern full yeast contact till June, bottling end of June
Classification: VDP.ERSTE LAGE®
Abtei Rupersberg 
It's a south facing site in Bingerbrück in Rupertsburg, the most northern, south facing site in the Nahe. It's the same exposition as the Rheingau and quite steep. Soils here are a very particular kind of metamorphic rock called Phyllite, which is basically mica inflected slate. This soil is also present in Rauenthal in the Rheingau. Part of the vineyard was planted in 1937 and this is the section that the EL wine comes from. The rest is declassed into a wine named for the soil type.
The name Abtei came from the Abbey of Hilldegard vom Bingen, a really amazing personality in the 11th/12th century.  The Abbey moved across the Rhein and today is the abbey that sits upon the Rüdeheimer Klosterlay. She is often sited as the person that Steiner stole his ideas from. "If she wasnt a Saint, she would have been burned at the stake" is what's often said.
Sizes Available
| | | |
| --- | --- | --- |
| Full Bottle | DE-KRF-10-20 | 6/750ml |
Press & Reviews
Wine Advocate
"From vines planted in 1937 in a very steep vineyard on phyllite soils and vinified in two stück vats until July 2021, the 2020 Bingerbrücker Abtei Rupertsberg Riesling trocken Prestige (Abtei 1937) offers a clear, deep, intense and finely concentrated bouquet of ripe, elegant Riesling fruit with some spicy phenolic notes. The attack on the palate is fresh and piquant, the texture rich, intense and juicy and structured by firm but fine, mineral acidity that carries this full-bodied and tight Riesling to a long and complex finish. It's a promising wine that needs to be aged for another couple of years to unfold its manifold talents. Even after three days in the open bottle, the wine gained in purity, finesse and tension. 12.5% stated alcohol. Natural cork. Tasted from AP 44 21 in January 2022."
REVIEWS FROM PAST VINTAGES