US-MTN-44-17
Pinot Noir, 'Zio Tony', Martinelli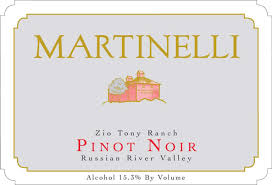 The "Zio Tony Ranch" is named after Lee Martinelli Sr.'s uncle, whom was the first in the Bondi family to be born on American soil. Zio Tony was the son of Paolo Antoni Bondi and Adele Gemma Cardellini, who emigrated from Italy in the late 1800's, and immediately set up farming potatoes. In one year they saved enough money raising potatoes to purchase the apple ranch on which Tony was born and where he and his sister, Alma, were raised. Zio Tony, Zio meaning 'uncle' in Italian and pronounced 'tseo', was a very charismatic man with a big booming voice who loved a good time. His broad handsome smile is still legendary in the old farming community of western Sonoma County. He was the entrepreneur of the family and began buying individual properties and planting apple trees, eventually establishing the largest apple orchard in the county. When Zio Tony passed away in 1971 his nephew, Lee Martinelli, Sr., took over management of the estate. The love of his family's heritage land was too great for Lee to sell the property and in one short season he went from High School teacher to Apple Farmer.
Producer:
Vintage:
2017
Country:
United States
Region:
California
Appellation:
Russian River Valley
Variety:
Pinot Noir
Color:
Red
| | | | |
| --- | --- | --- | --- |
| Sizes Available: | SKU | Case Size | Bottle Size |
| Full Bottle | US-MTN-44-17 | 12 | 750 |
Press & Reviews
Parker
Score:
94+
Date:
April 2019
Review:
Pale to medium ruby-purple, the 2017 Pinot Noir Zio Tony Ranch is scented of cinnamon stick and pie spice with warm blueberries and blackberries, black cherries, dusty earth, orange peel and dried flowers. Light to medium-bodied, the concentrated blue and black fruits segue into spicy nuance, framed by very fine, grainy tannins and great freshness, finishing long and layered.
Spectator
Score:
93
Date:
2019-07-15
Vinous Media
Score:
96
Date:
April 2018
Review:
A rush of ripe red cherry, pomegranate, mint, blood orange and rose petal infuses the 2016 Pinot Noir Zio Tony Ranch. Rich, racy and forward, with striking fruit intensity, the Zio Tony has an immediate allure that is impossible to resist. Even with all of its flamboyance, the 2016 remains light on its feet. The combination of richness and precision makes for a compelling Pinot Noir that will delight readers for many years to come. What a wine!