US-OCC-40-16
Pinot Noir, 'Running Fence Vyd – Cuvee Catherine', Occidental [by Steve Kistler]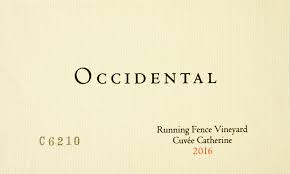 In 2008, Occidental purchased our 250-acre Bodega Ridge property, which lies on the same ridge as Bodega Headlands and clearly overlooks the Pacific. In 2012, Occidental began planting 65 additional acres of pinot noir on this property. Bodega Ridge comprises approximately thirty discrete vineyard blocks based primarily on the water-holding capacity of the soil. The rootstock we chose that best suits our soils and growing conditions was Riparia Gloire. Although seldom used in California, it was selected because it is the most devigorating rootstock available, has the shortest vegetative cycle, and promotes the earliest ripening of its fruit – a critical factor in farming vineyards in marginal coastal sites.
Occidental began developing Bodega Ridge over ten years ago, and it is very rewarding to watch this remarkable vineyard begin to reach its full potential. This wine is the first in a series of three exceptional vintages (2016 through 2018) from this site and will provide an interesting point of comparison with the wines produced from our neighboring Bodega Headlands Vineyard.
Producer:
Vintage:
2016
Country:
United States
Region:
California
Appellation:
Freestone-Occidental
Variety:
Pinot Noir
Color:
Red
| | | | |
| --- | --- | --- | --- |
| Sizes Available: | SKU | Case Size | Bottle Size |
| Full Bottle | US-OCC-40-16 | 12 | 750 |
Tasting Notes
A striking nose combines the wild red berry aromas of the Cuvée Elizabeth and SWK Vineyard with darker tones of black raspberry, violets, and oriental spice. This vivid mix of red and black fruits is braced by a beam of salty minerality that adds structure and tension to this impressive wine. Finishes with great energy, length, and a rising perfume.
POS Resources
Request a shelf talker/case card
Press & Reviews
Vinous Media
Score:
96
Date:
January 2019
Review:
A new wine in this range, the 2016 Pinot Noir Running Fence Vineyard Cuvée Catherine is sourced from Steve Kistler's Bodega Ridge estate, where the Occidental winery is located. Blood orange, red raspberry, mint, dried flowers and star anise are all laced together in this very pretty, expressive Pinot Noir. The 2016 is translucent and wonderfully energetic at the outset, but then gains volume with time in the glass. It is another gorgeous and highly nuanced wine in the range.