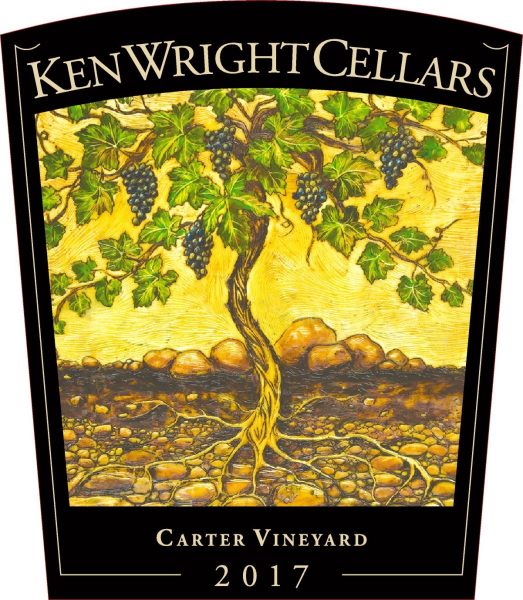 The Carter vineyard, which is located in Eola-Amity Hills AVA is 21.66 acres which was originally planted in 1983. Perfectly situated on a south facing slope 325ft above sea level on Nekia volcanic soils.
You think you've heard every butterfly story, and then this one comes along. Like any good butterfly  story, there's more to it than larva and cocoons and bright splashes of color. This particular story starts  44 years ago, in 1974, all the way across the country in Washington, D.C. when Jack and Kathleen Carter  decided to chuck their government jobs and move to Oregon to raise a family. They settled in Salem and  got jobs with the state government – Kathleen in land conservation and development; Jack with the  state Executive Department.
Farming was about the last thing they considered doing as a hobby, but in 1978, Kathleen's parents took  them on a trip to Beaune, in the heart of Burgundy, and the couple fell in love with Pinot Noir. "We  drank different wines every night and I thought, 'Maybe we should look into this,'" recalls Jack. They  knew that the hills outside of Salem had begun producing surprisingly good Pinot Noir wines, so, like  butterflies preparing to take flight, they prudently took classes at the local community college in grapegrowing and business management in order to prepare themselves for the next stage of their lives. They  would plant and grow a vineyard.
Kathleen happened to know Bill Blosser, who a few years earlier had helped start the Sokol Blosser  Winery in Dundee, and with his assistance and more from new friends in the nearby Casteel family, the  Carters found a 42-acre parcel of land that was being subdivided by owner Patricia Repetto, who stayed  with her family on 12 acres and sold the remaining 30 to the Carters. The Repetto property changed  hands a few times since and is now the site of a dog-grooming business, with horses grazing in corrals. Hang on; the butterflies are coming.
The property was mostly a mess when the Carters arrived. Half of it had been a cherry orchard, but only  four acres of cherry trees were still serviceable and producing fruit; the rest of the trees were dead,  dying or wild. The rest of it was a grain field that had been fallow for years. "We'll practice on the four
acres of cherries," Jack said to Kathleen (or possibly vice-versa), so they tore the rest of the cherries out,  planted oats and wheat and grew those things for a few years. They also planted a test acre of wine  grapes: Pinot Noir, Chardonnay, Sauvignon Blanc and Syrah. The Pinot Noir did spectacularly well.
Now the butterfly…Fender's Blue butterfly can only exist in the presence of Kincaid's lupine, a rare  subspecies of the common sulphur lupine. Its larva winters in the root system of the plant, it undergoes  its amazing metamorphosis on the Kincaid's lupine, and during its brief – ten days tops! – lifespan as a  gorgeous blue butterfly, it mates and the female lays her ova on the Kincaid's lupine.
So now, Seth Miller, Mark Gould and Ken Wright, in a project begun with the blessing and support of the  Carter family, are trying to recreate native habitat for the Fender's Blue butterfly on the Carter vineyard.  The acre of land that Mark had cleared on which to be married has been planted with Roemers Fescue  grass, also known as Idaho fescue or blue bunchgrass, with the assistance of the Oregon Department of  Forestry, and Seth works hard to keep the grass from being overrun by invasive species of ground covers  and weeds…lots of weeds. As the grass gets good and healthy, more native plants are being added:  Camas bulbs (which the Native Americans who lived in this valley for millennia used as a principal food  source), yarrow, flowering currant shrubs and madrone trees. And when all of that is in place, Kincaid's  lupine will be introduced. And finally, butterflies.
Info
Appellation:
Eola-Amity Hills
Farming Practice:
Practicing Organic
Sizes Available
| | | |
| --- | --- | --- |
| Full Bottle | US-KWC-45-19 | 6/750ml |