Pinot Noir, 'Canary Hill'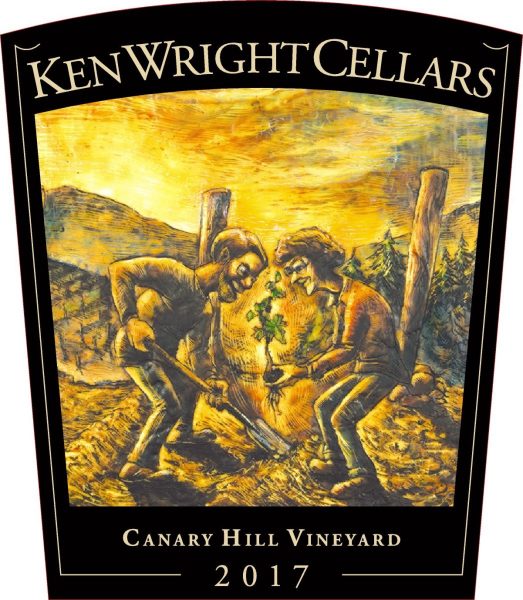 The Canary vineyard, which is located in Eola-Amity Hills AVA is 21 acres (17.5 under vine) which was originally planted in 1983. Perfectly situated on a east facing slope 450ft-550ft above sea level on Nekia and Jory volcanic soils.
Canary Hill may be one of the older vineyards in the Eola Hills of the Willamette Valley, but its modern  history is fairly easy to summarize. Ken Wright liked the vineyard so much that he bought the property  outright from Dick and Nancy Daniel in 2006. Twenty-four years before that, in 1982, Nancy and Dick  cashed in their Arizona home for the rugged, beautiful property high up in the hills, with a view west  towards the Coast Range. They thought that growing grapes might be a good idea, even though "I didn't  know spit about wine," says Nancy now. The farmers who were their neighbors thought they were nuts  for paying $3,500/acre for the 21-acre parcel that was little more than a sheep pasture. How did Canary  Hill get its name? "When we arrived there were thousands of little yellow birds on the property," she  recalls. "People told us they were canaries. Well, turns out they were Western Goldfinches." Too late – they had already named it after canaries, and the name stuck.
Dick and Nancy Daniel met as undergraduates at Washington State University; they were both from  towns in eastern Washington. Dick became an electrical engineer, Nancy a master gardener as they  raised their kids in the Phoenix area. A careful search of west coast cities revealed the Salem area as the  place to which they most wanted to retire, and a meeting with the Casteel family of nearby Bethel  Heights Vineyard cinched the decision to grow a vineyard during their retirement. When area growers  decided on a protocol for low-impact, low-chemical vineyard practices, it was Dick who coined the term  L.I.V.E. – Low-Input Viticulture and Enology – that exists as a standard today.
The label created for Ken Wright Cellars Canary Hill Vineyard Pinot Noir shows a young, robust Dick and  Nancy in their vineyard, planting a new grape vine, with the sun setting over the Coast Range. There  isn't a canary in sight on the label, but then, there never were canaries on Canary Hill Vineyard.
Info
Appellation:
Eola-Amity Hills
Farming Practice:
Practicing Organic
Sizes Available
| | | |
| --- | --- | --- |
| Full Bottle | US-KWC-44-21 | 6/750ml |