Hexamer Meddersheimer Rheingrafenberg Riesling Spätlese*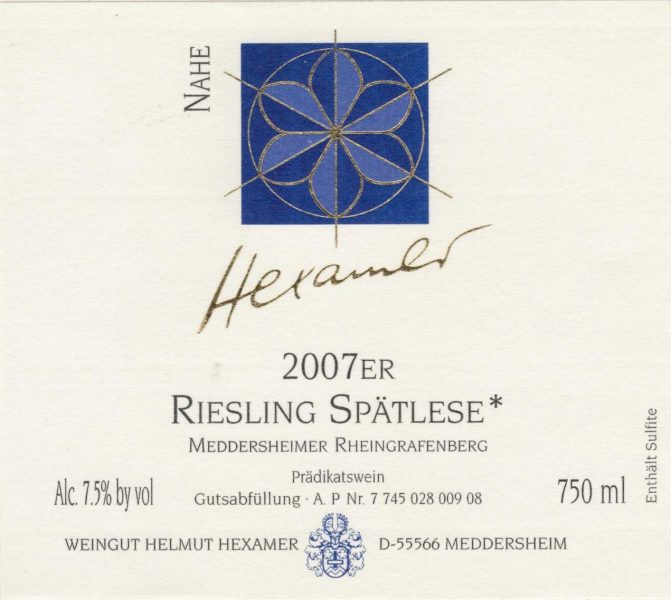 Region: Nahe
Grape: Riesling
Vineyard: Shloßböckelheim – In den Felsen
Soil: volcanic, porphyry
Wine making: Fermentation in stainless steel
Schloßböckelheimer In den Felsen
The Schloßböckelheimer "Felsen" cover around 6.9 hectares, of which 4.3 hectares – without exception purely south facing – are in our possession. In the steepest area, the vineyard has a 70% gradient – a location with exceptional character.
The rock that forms the floor here, porphyrite, is weathered on the surface; together with the small and large fragments of porphyry, it forms the soil horizon that can be developed for the vines. The gray to almost black rock is enormously rich in minerals, especially calcium, but also magnesium, potassium and many other nutrients and trace elements are represented in large numbers. Together with the porphyry slope above our vineyard, the rock acts as a heat store, of course also thanks to its south-facing orientation.
The wines from the "rocks" ideally complement our Meddersheim Rieslings – with an equally pronounced but very different minerality, a very typical subtle smoky note, a lot of yellow fruits in the fragrance and a soft acidity, these wines are the perfect counterweight to our steel, quartzite embossed Meddersheim Rieslings.
Info
Farming Practice:
Sustainable
Sizes Available
| | | |
| --- | --- | --- |
| Full Bottle | DE-HEX-41-09 | 12/750ml |