JP-MUT-01-NV
NAMA Junmai Muroka Genshu Sake, Mutemuka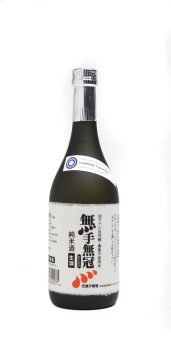 Made from a blend of local rice varietals Kaze Naruko and Hino-Hikari milled to 65%.
All the rice used is certified organic to Japanese standards, some of the strictest organic standards in the world.
Earthy, robust and dry. Dark chocolate on the nose, flavor is high in umami with nutty qualities of cacao and fresh hazelnuts. Sharp, defined finish.
Unlike most unpasteurized sake that are released immediately this is aged for half a year at room temperature, softening the herbal qualities and giving it depth and richness.
Producer:
Vintage:
NV
Country:
Japan
Region:
Kochi
Appellation:
Kochi Prefecture
Variety:
Blend - Two Rice Varieties
| | | | |
| --- | --- | --- | --- |
| Sizes Available: | SKU | Case Size | Bottle Size |
| Full Bottle | JP-MUT-01-NV | 12 | 720 |